Today I made these adorable and super cute Free Printable Christmas Word Bingo Game cards. I have already made a super cute Christmas Picture Bingo Game that you can also download from this website for free. I have made ten unique printable cards for this word bingo game. You can play this game in classrooms and at your homes. Kids will love playing this game for the reward of a cute small gift hamper comprising of candies. This game can also be played to have some family time and fun together. I have enclosed the printables in a safe to download zip file, there are 10 printable bingo cards and 1 callers checklist. You can print the cards according to the number of people that are playing. If more than 10 people are playing then you can print duplicate game cards.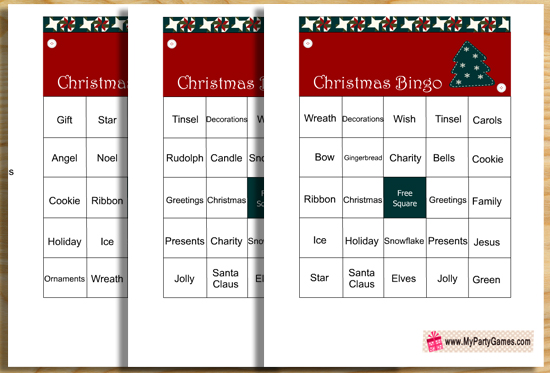 How to Play
Download and extract the zip file. Print the Bingo Cards according to the number of participants. Distribute the cards among players along with a pen or pencil. Take callers checklist in your hand and start calling Christmas related words given on the checklist, one by one. Ask the player to cross each word on their Bingo card when it is called. The player who completes a row either horizontal, vertical or diagonal should shout 'Bingo' loud. That player will be the winner. In case of identical cards, the player who shouts the word 'Bingo' first will be the winner.
Free Printable Christmas Word Bingo Game Cards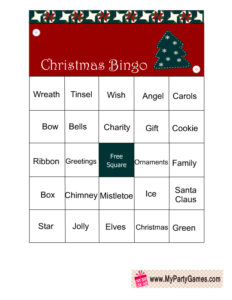 Click here to download the zip file with ten unique and adorable Printable Christmas Bingo Game Cards and one caller's checklist. These Bingo Cards have Christmas related words and a cute Christmas pattern. Your guests will not only enjoy playing this game but will also appreciate the cute pattern of these cards. You can print these cards along with the caller's checklist and can include these to the presents that you are giving to your kids or your grandkids. This game is also a great way to keep kids busy during the Christmas time. If your kid can read he can play this game with his/her siblings and cousins.
Please also browse through my website to find more kid friendly Christmas and other games.