Today I am sharing 9 Free Printable Christmas I Spy Games. This game is a perfect little stocking stuffer, it is a great way to keep kids busy on Christmas day and eve. This is also a perfect educational activity where they will learn while having fun. You can play this game in classrooms as well. I am sharing 3 Free Printable I Spy Activities of varying difficulty levels that you can download from this page and I have also collected links to some more cute and amazing I spy games that I have collected from the web. A group of kids can play this game and compete with each other and a single kid can also play this game.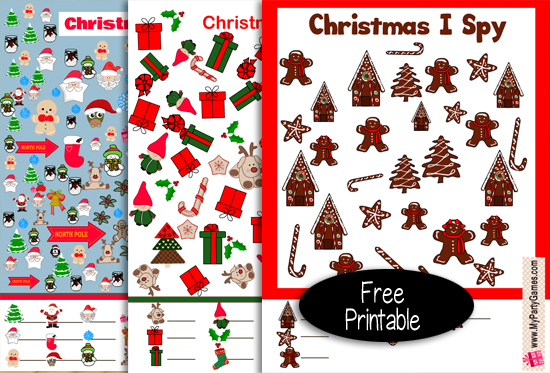 How to Play
Print and give the I spy game printable in the design and difficulty level of your choice to the kids. Ask them to count the objects and note down their number at the end of the page. The kid who finds and counts all the objects correctly first will be the winner.
1. Free Printable Christmas I Spy Game with lots of objects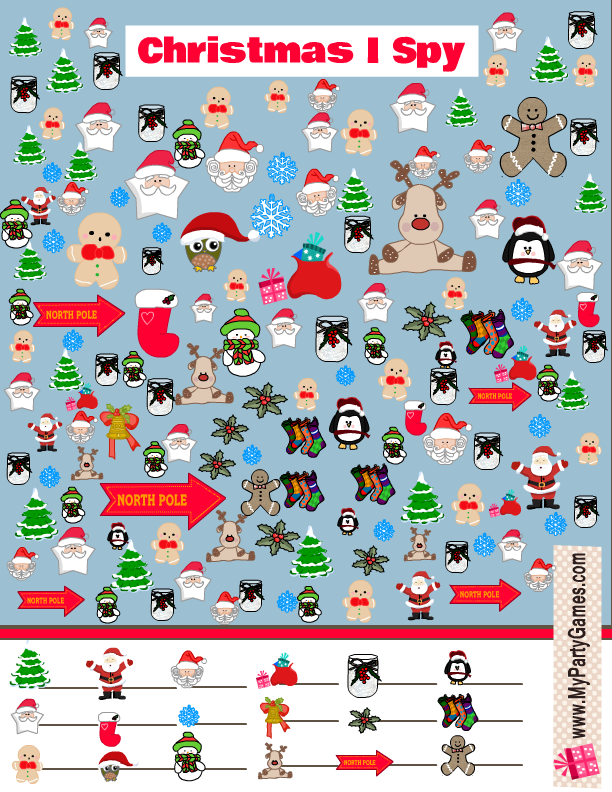 This is the first free printable I spy game for Christmas. This is a relatively difficult game so even older kids like tweens and younger teens can play it too. Actually the whole family can enjoy some healthy time by playing this game during the Christmas holidays. Click on the smaller image that I have shared above to get the free printable image. Click here to download the solution to this game.
2. Free Printable Christmas I Spy Game in Red and Green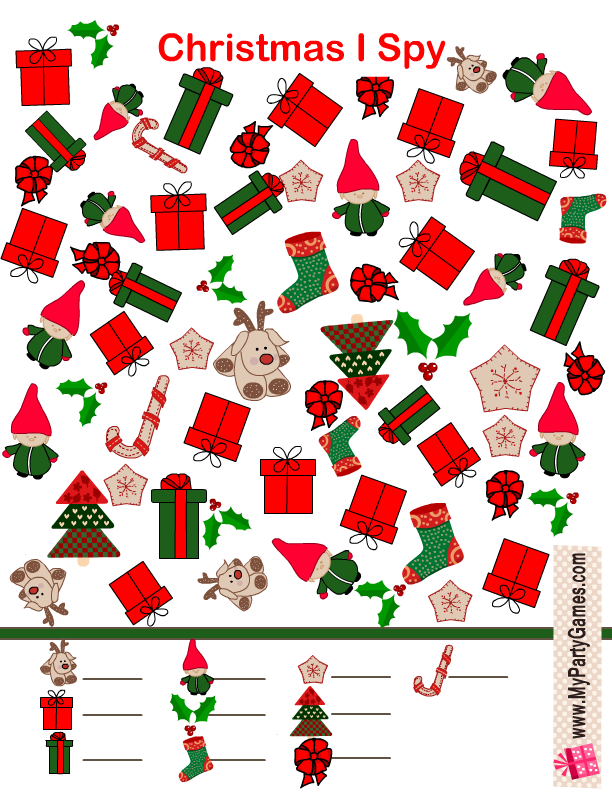 This is another cute I spy game printable. Most of the objects in this printable are in the combination of red and green. Click or tap on the image that I have shared above and save the bigger printable PNG image. Click here to download the page with the exact count of the objects.
3. Gingerbread-man Christmas I Spy Activity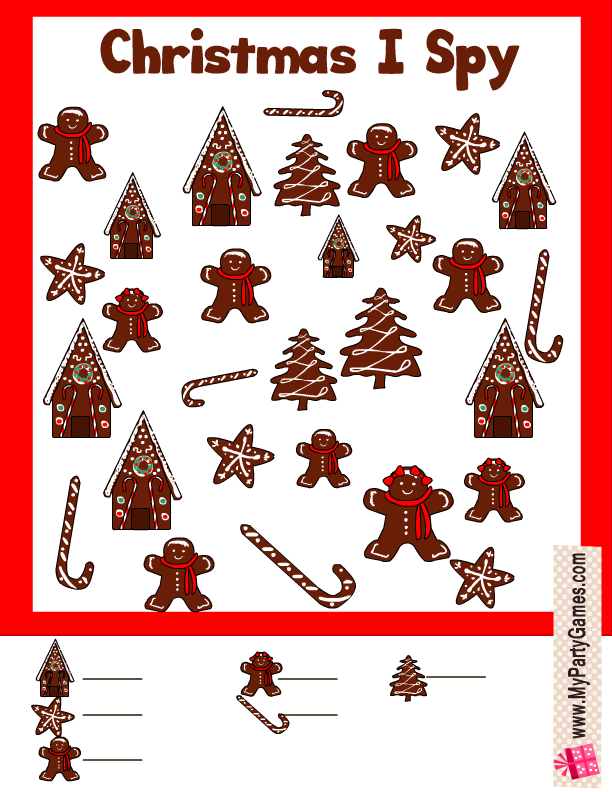 This free printable Christmas I spy activity page has gingerbread-man, candy cane, and gingerbread-house that kids will have to spot and count. Click here to download the solution.
If you do not have a color printer, do not worry as Paper trail design is sharing a fun Christmas I spy game in black and white.
A fun I spy printable with penguins, candies, stars and teddy bears.
This website offers a cute I spy Printable that kids can play at at church, school parties, church, and more places.
On this site, you will find another cute I spy printable where kids will have to count stockings, gifts and snowmen.
This is another free printable I spy game that you can download in PDF format.
A fun activity with Snowmen, stockings, Santa hats, ribbons and more objects.