Who got the Santa? Is a cute Free Printable Christmas Game. You can play this game on a Christmas party, with your family and even in classrooms. You can give a small gift like a small bag of candies or any small gift hamper to the winner. This game is just a simple lucky draw game and  it will add some cute fun to your gatherings around Christmas time.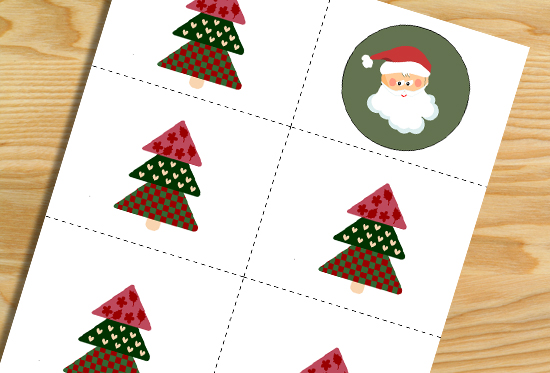 How to Play
Enclose one Santa printout and other Christmas tree printouts in envelopes. Make sure that Santa image is in just one envelope. Ask each guest/participant to pick one random envelope of their choice. When all participants are seated, ask them to open their envelopes and look what they have got. The person who gets the Santa will be the winner.
Who got the Santa? Free Printable Christmas Game
This game printables are in PNG format. Click on the game image and a bigger image will open up, just right click and save or print that. I have made two printable sheets for this game. One has the image of Santa and images of Christmas trees. Other sheet has just printable images of Christmas trees. You will need only one Santa printables and print Christmas trees according to the number of the players who are participating in this game.