Today I am sharing 10 Free Printable Christmas Crossword Puzzles for kids from various age groups and also adults. Three of these puzzles are created by me and I am also sharing the answer keys to these puzzles as well. I have collected links to the rest of the puzzles from across the web but I have ensured that these Christmas puzzles are free printables. If you want to download any of the Crossword puzzle given on this page, just click on it's thumbnail and the bigger printable PNG image will open up. These puzzles can be excellent stocking stuffers as well. You can use these puzzles in classrooms and also keep kids busy during the holidays.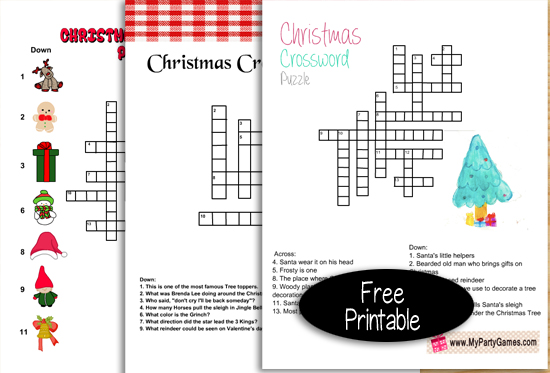 How to Play
Print and distribute the puzzles among the kids and ask them to write the correct words according to the hints at the right spot. The person who completes the whole crossword puzzle correctly will be the winner. You can also print these puzzle worksheets for a single kid. If he or she solves the puzzle correctly, give him or her some small treat.
1. Free Printable Christmas Crossword Puzzle with Pictures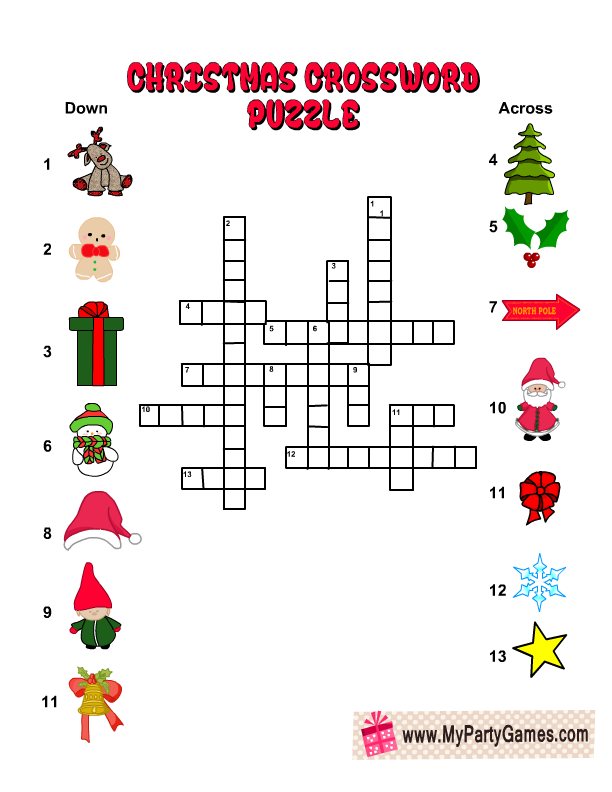 This super cute crossword puzzle Printable is perfect for kids of grade 1 and 2 or any kid who knows the spellings. There are pictures of Christmas related items and the kids will have to put the right name at the right spot in order to solve this puzzle. Just click or tap on this image that is given above and you will get the bigger printable image. Click here to download the answer key to this puzzle.
2. Free Printable Christmas Crossword Puzzle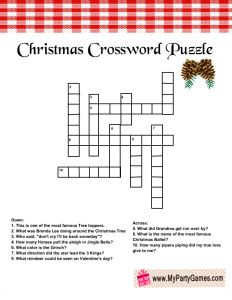 This is the second free printable Christmas Crossword Puzzle that I have made. Just click on this image this thumbnail and you will get the bigger printable quiz with 10 clues. Click here to download the solution to this puzzle.
3. Printable Easy Christmas Crossword Puzzle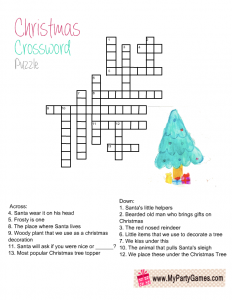 This is an easy crossword puzzle and here is the solution to it.
On this site you will find a fun yet easy Christmas Crossword Puzzle activity in PDF format. The puzzle and the solution, both are included in one file.
On this website a cute crossword puzzle is offered with the key. You need to download the PDF to get the puzzle without the big Chicken.
Merry about Town offers a big Crossword for Christmas with 21 clues.
This fun Crossword Puzzle uses names of all the things that are used as Christmas decorations. The puzzle is there and also the solution.
This website offers a cute Crossword Puzzle with Christmas related pictures.
Thrifty Momma Tips offers an adorable worksheet with 10 clues and cute graphics.
This website offers a fun Crossword Puzzle and many other cute and fun Christmas activities for kindergarten kids.