Today I am sharing three designs of this Free Printable Christmas Carol Game and some fun links to the similar games from across the internet. This fun game is suitable for any age group. Anyone who claims that he or she knows the Christmas carols well can play this game. This fun game can be played by the whole family to add some more fun to your Christmas celebrations.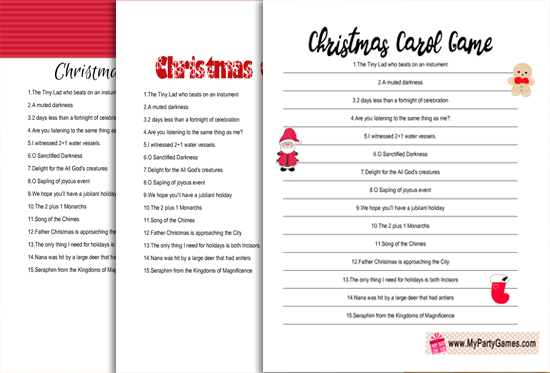 How to Play
Print and distribute the game cards among the players along with a pen or pencil. Ask them to guess the name of the carol by guessing from the jumbled up clue. The person who guesses all the Christmas carols correctly will be the winner.
Free Printable Christmas Carol Game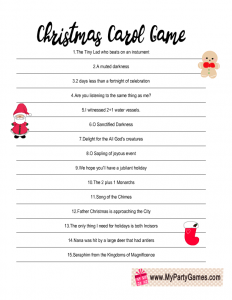 This is the first printable game card for this Christmas Carol game. This cute game card is decorated with a gingerbread man, a cute Santa, and Christmas stocking. There are 15 carols that the players will have to guess from the given clues. Just click or tap on the thumbnail image of this game and a bigger printable image will open up, that you can save.
Printable Christmas Carol Guessing Game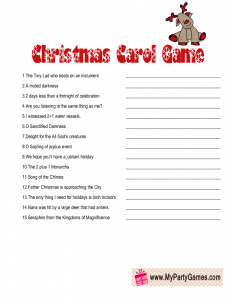 This is the second design for this fun Christmas game. Just click on the thumbnail to get the bigger printable version of this game.
Free Printable Christmas Carol Guessing Game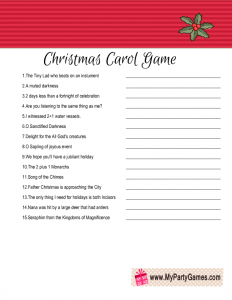 This is the third free printable design for this Christmas carol game. You can choose and print this game in any design that you may like more.
Christmas Carol Game Answer Key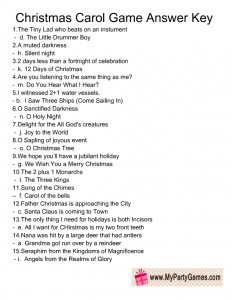 Here is the answer key to this fun game. You will only need just one copy of this answer key.
I have also collected links to some fun free printable Christmas carol games that you may enjoy. Here they are
This free printable Holiday game is slightly different from the one that I have made but equally fun. You might want to take a look.
This is an online quiz and not a printable game. The players will have to choose the correct Carol from the choices given after each question.
This is a free printable multiple choice quiz and you can download the quiz and answer key both in the PDF format.