Today I made these 15 super cute Free Printable Christmas Bingo game cards that you can download and print using your home printer. These are really beautiful and cute cards and you can print and give this bingo set as a Christmas gift as well. The whole family can enjoy playing this game. I have made these picture bingo cards with Christmas related graphics. Each bingo card is unique so 15 players can easily play this game. If more than 15 players wants to play then you can print duplicate cards. I have enclosed these cards in a safe to download zip file. You can extract the bingo cards and print using the printer at your home. For more Christmas related printables visit http://christmas-printables.com. All the graphics used in this game are original and created by me. You cannot share any image or file from my website on your own website or facebook group. All these images are free only for personal use.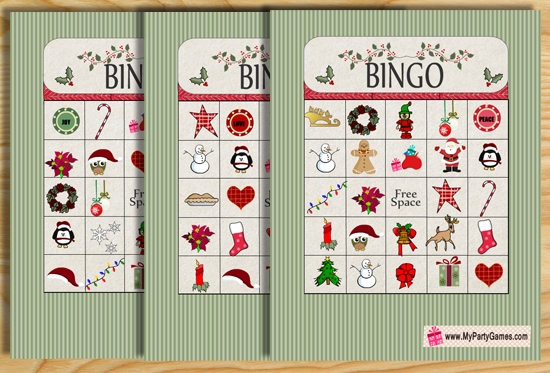 How to Play
Print and distribute these super cute Christmas Bingo Cards among your family members and other players along with a pen or pencil. Take the caller's checklist and start announcing names of the Christmas related pictures and objects one by one in random order. The players will have to cross the picture on their bingo cards when it's name is announced. The player that gets a complete horizontal, vertical or diagonal row crossed first should shout 'Merry Christmas' or 'Bingo' in loud voice and he or she will be the winner. In the case of using duplicate cards, the player who shouts 'Merry Christmas' or 'Bingo' first will be the winner.
Free Printable Christmas Bingo Game Cards
I am sharing picture of 3 bingo cards above  as an example so you can see the beauty of the graphics of this game. Click here to download the zip file with 15 different bingo game cards. This zip file is safe and virus free. I have made images of beautiful Christmas related objects such as Santa, Ginger-Bread-man , Snowman, wreath, candy cane, Christmas gift, ornaments, stockings, sleigh and many many more cute things.
If you like my post then please share the link to this post on Facebook, Pinterest and other social media.
Please share your comments and suggestions using the comment form below.