Sometimes people who are already in relationships, just want to spend Valentine's day only with their partner. That is why I have created this Free Printable Valentine's day game for couples that is called 'How Well do you know your partner?'. This is just a fun game and not a compatibility test. You can play this game on Valentine's day, on anniversary or just any other day when you want to have some fun. I have made three different designs for this game that I am sharing over here. You can print this game in the design of your choice. There are 12 questions given on the game's worksheet.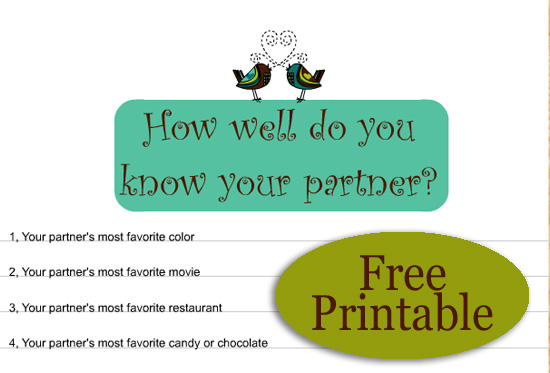 How to Play
Print two sheets of this game in the design of your choice. One sheet is for your partner is one will be for yourself. Give one sheet to your partner along with a pen or pencil and ask him or her to answer all the questions keeping your choices in mind. Do the same yourself and answer all the questions while keeping the choices of your partner in mind. Now take turns and read all the answers to each other. The person who had answered more questions correctly will be the winner. This is just for fun game and I am sure that it will cheer you up.
How Well do you know your Partner? Free Printable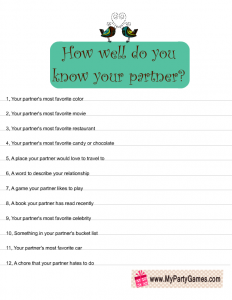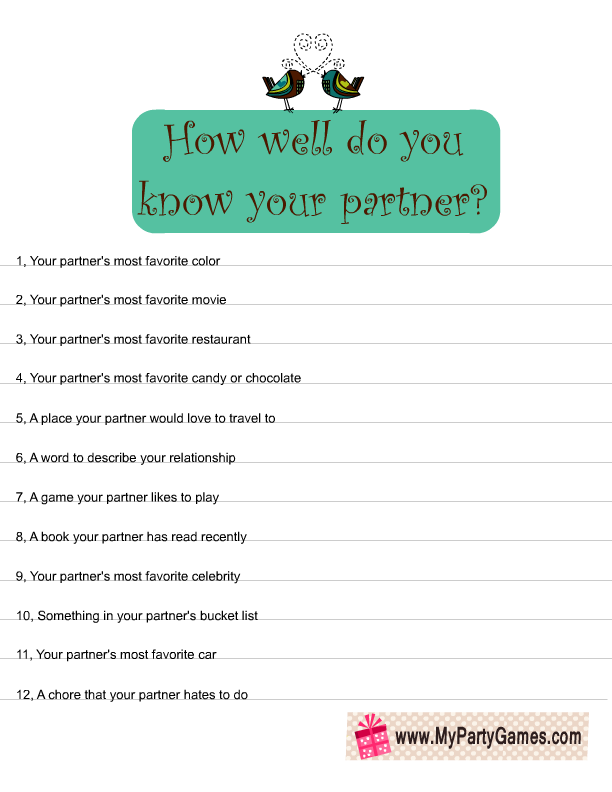 This is a free printable game for couples and I have decorated it's cute printable with image of two cute birds. Just click on the thumbnail image that I have shared above, and a bigger printable image will open up. You can right click on that and save it.
How Well do you know your Partner? Game for Couples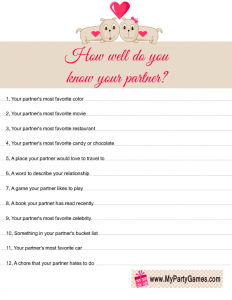 This is another free printable that I have made for this game. This adorable printable is decorated with an image of two adorable puppies and a heart. If you like to print this image then just click on the thumbnail and save the bigger image that will open up.
How Well do you know your Partner? Printable Valentine's Day Game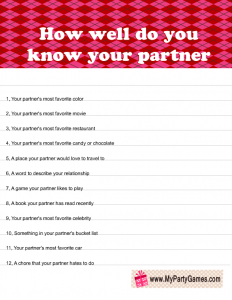 This is another cute printable design that I have created for you. If you want to print it then just click on this thumbnail and save or print the PNG file.
Please leave a comment below and also pin the thumbnail images on Pinterest.