Who doesn't listen to Love Songs? Love songs get especially important around Valentine's Day. Today I am sharing Free Printable Love Songs Trivia Quiz with Answer Key and I have collected questions about some very popular and classic love songs. This is a multiple-choice trivia quiz and I have made the quiz sheets in three different designs. You can play this fun trivia quiz at your home, office, school, or at your community gathering. You can also play this fun quiz game at your Valentine's Day party. You can also play this game at a Bridal Shower or at a Hen's Party.
Just click on this trivia quiz game in any design that you like the most and save or print the larger high-resolution game sheet.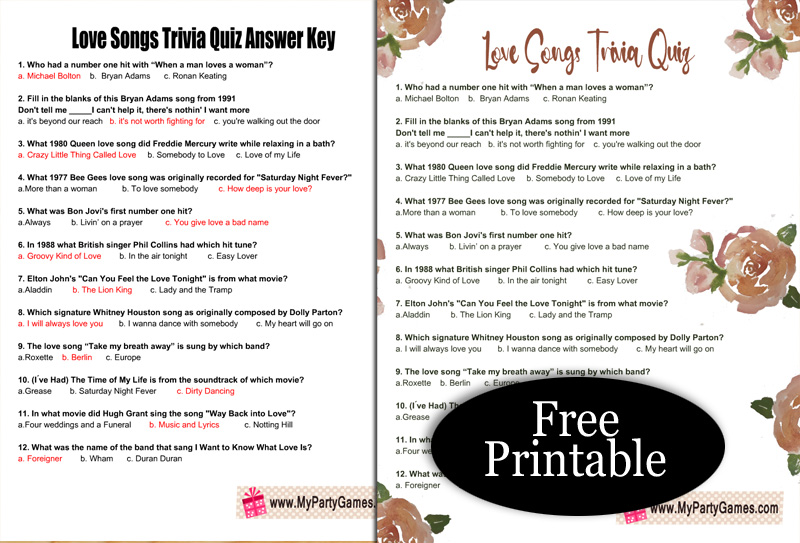 How to Play
Print and distribute the Love Songs Trivia Quiz sheets among the players. Ask the players to choose the correct answer from the choices that are given below each question. After all the players have finished the quiz, collect the sheets and check the answers with the help of the answer key that is given at the end of this page. The player with the correct answers wins.
Free Printable Love Songs Trivia Quiz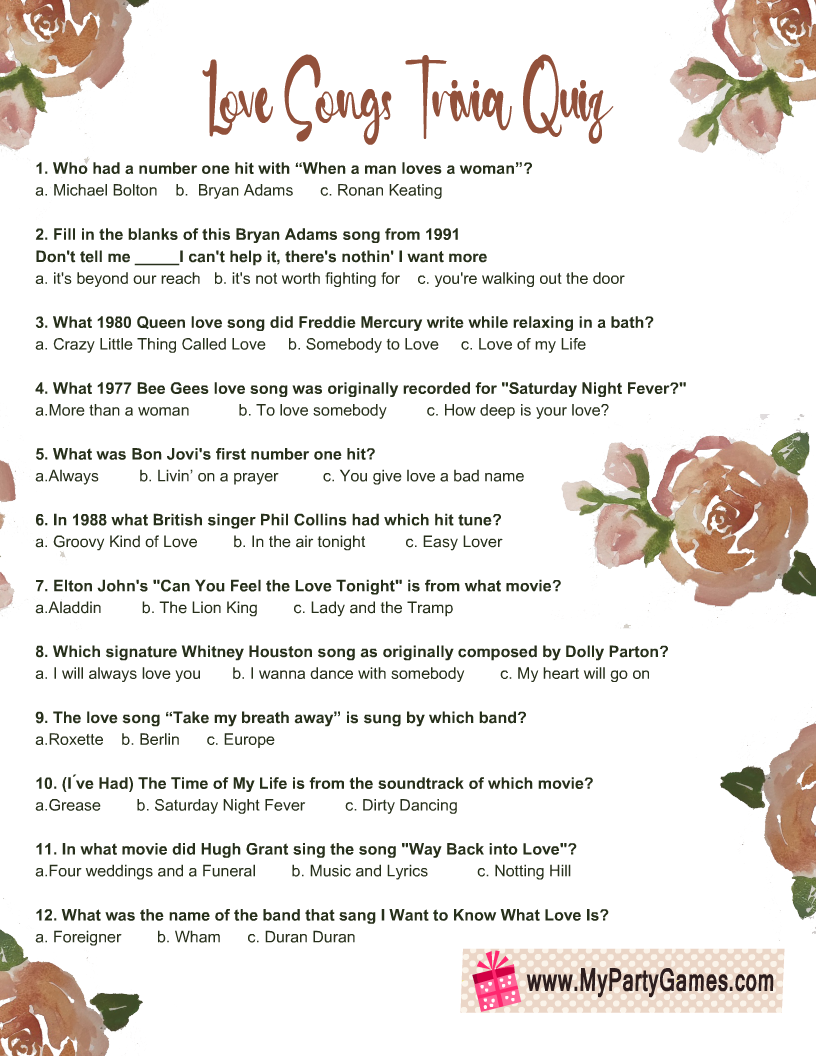 This is the first printable game card for this Love Songs Trivia quiz. This game sheet is decorated with roses made in watercolor. All the questions are in a bold find and around three choices are given under each trivia question. Just click on this thumbnail image and save the larger printable sheet.
Love Songs Trivia Quiz Free Printable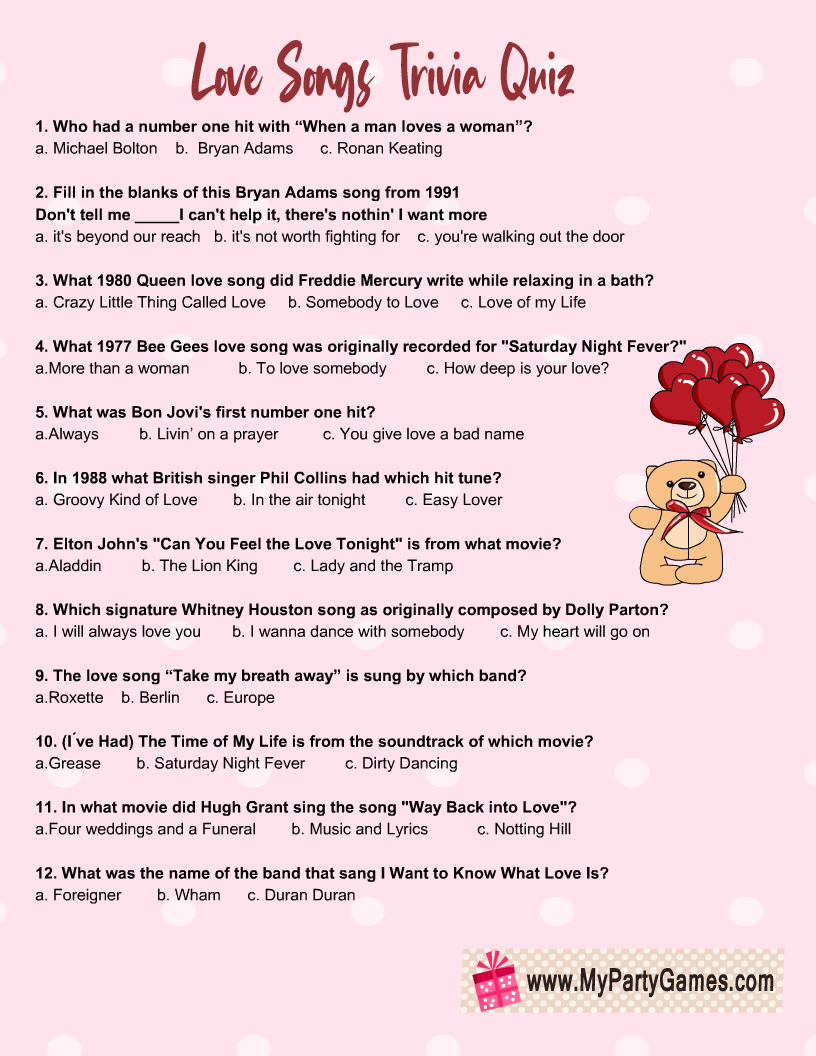 This is another design for this Love Songs trivia quiz and this is also a very adorable game card. This game card has a pink polka-dotted background and an image of a teddy bear holding balloons making it a perfect choice for Valentine's Day.
Valentine's Day Love Songs Trivia Quiz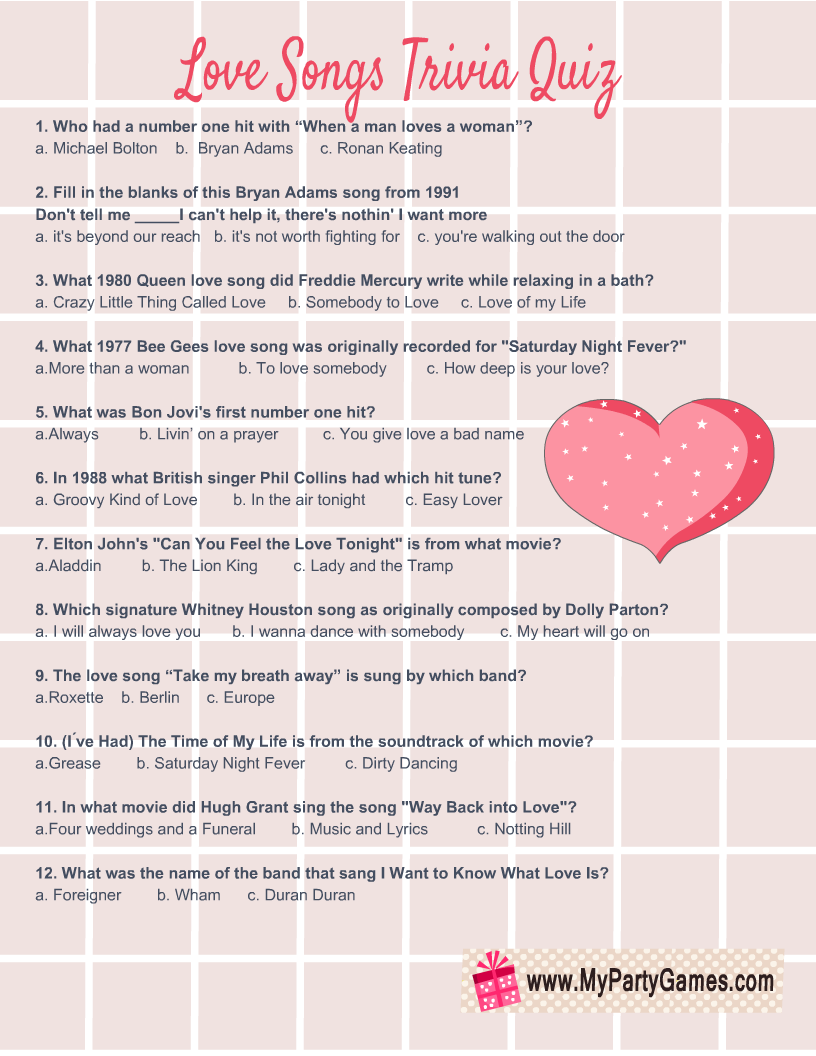 This is another design for this love songs trivia quiz. This game card is decorated with an image of a sparkling heart. The questions on all trivia worksheets are the same but the design of each game card is different.
Free Printable Love Songs Trivia Quiz Answer Key