Today I have made this adorable Free Printable Valentine Picture Bingo Game that can be played by the whole family. Bingo is one of the most popular party games and it is always enjoyed by everyone. You can play this game at your home with your family, at your office party and also at your schools. I have made very cute and original graphics for this game. You can easily print these Valentine Bingo Cards using a printer at your home. I have prepared ten unique bingo cards and one caller's checklist.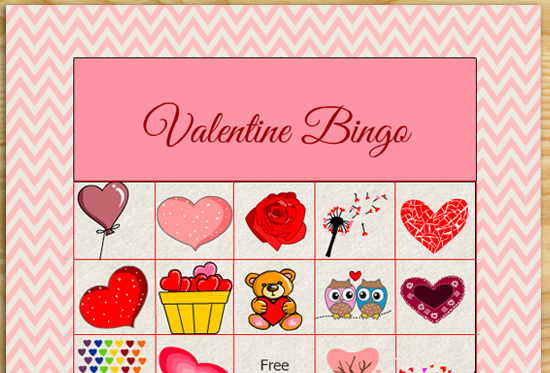 How to Play
Print and distribute these cute Valentine Picture bingo game cards among the players along with a pen or pencil. Cut the cards from the caller's checklists and put those in a jar. Take the cards one by one and display each card to all the guests. Ask the guest to cross a picture when they see it on the card. The guest who completes a line of 5 crossed pictures, either horizontal, vertical or diagonal should shout Bingo or Love. In the case of more than 10 guests, you can print duplicate cards. In the case of duplicate cards, the guest who completes the rows and shouts 'BIngo' or 'Love' first will be the winner.
Free Printable Valentine Picture Bingo Game Cards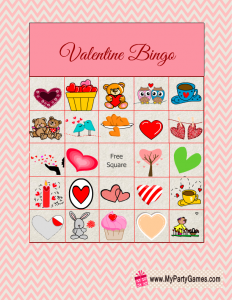 This is one of the 10 free printable Valentine's Day Picture Bingo cards that I have made. Each of these cards has a different and unique design. These cards are decorated with images of hearts, cupcakes, bunny rabbits, teddy bears, cute owls and many more cute objects that depict love. You can easily download all the games on my website as I do not ask for sign ups or logins to download files. I have enclosed all the Bingo files in a safe zip file. You just need to download and unzip it. You can choose as many files as you want to print as my Bingo game is not in a form of a big PDF. Please click here to download the picture bingo files.
Valentine Bingo Caller's Checklist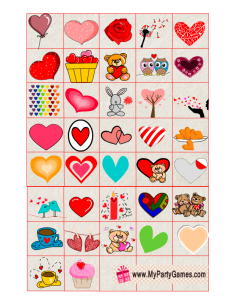 This is a free printable caller's checklist for this Bingo game. It has 37 different images that you can cut and show those to your Bingo game players one by one. You will need just one copy of this check list.