Here are a few Free Printable Halloween Scattergories inspired categories games. You can play this game on Halloween party or with  your family. I have created a Halloween related category list that you can print and use if you have Scattergories die. I have also prepared other lists with Halloween related scary words that you can use to play this game in case you don't have a Scattergories die.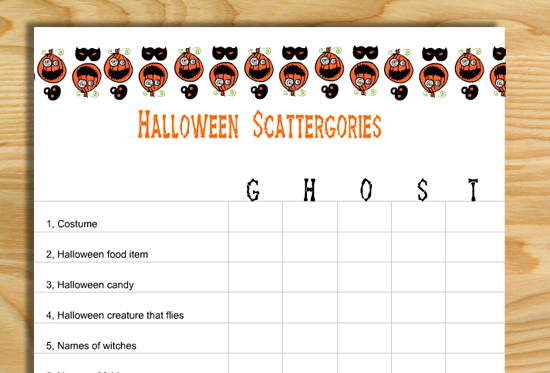 How to Play
Print and distribute these Scattergories game cards among your Halloween party guests. If you have a die then use the simple categories list. If you do not have a die then use the game worksheets that I have created using scary words like ghost and witch. Each guest will have to make unique words with each letter for each category within the assigned time.
Free Printable Halloween Scattergories List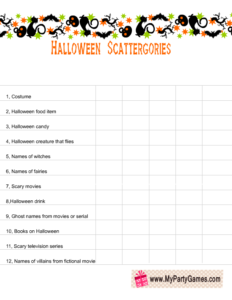 This is a free printable worksheet with Halloween related categories to help you play the game of Scattergories on your Halloween party. You can really enjoy this game if you have a die. If you do not have a die then you can use the worksheets I am sharing below. Just click on any image of your choice and then right click and save the bigger image.
Free Printable Scattergories inspired Halloween Game
Here are two different worksheets that you can use to play this game of Scattergories without a die. The guests will have to find words for each category using letters in the word Ghost. You can assign a time span of 10 minutes or 12 minutes to make all the words. Each guest will get one point for each unique word. If two guests will come up with the same word, the word will be cancelled. The person with most points will be the winner.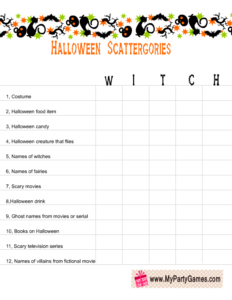 Here is another free printable worksheet for this game. The guest will have to make words for each category using the letters in the word 'witch'.