Today I am sharing 13 Free Printable Halloween Mazes of various difficulty levels. I have made 3 mazes myself and I am also sharing their solutions here and I have collected the links to the rest of the freebies from across the web. My aim is to provide you the best party games on this website so you don't have to go anywhere else.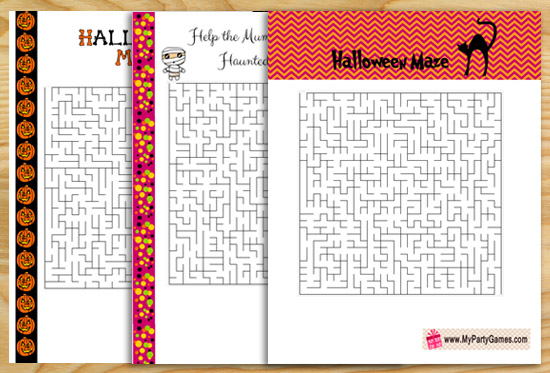 How to Play
These mazes can be solved by a single kid and a group of kids can also compete for that who solves the maze first. Just print the copies of the quiz of your choice according to the number of players and ask them to find the way from one opening to the other. You can download the solution if all the players stuck somewhere.
Help the Mummy reach the Haunted House Free Printable Maze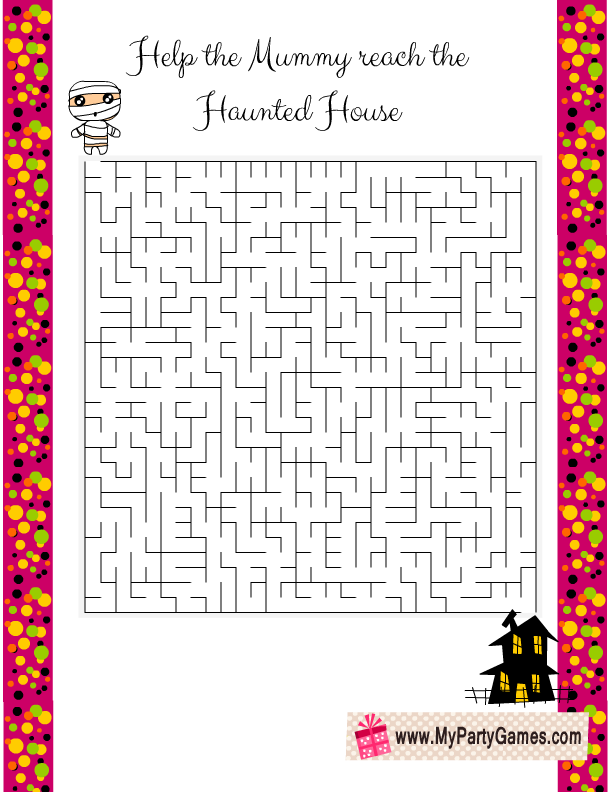 This is a free printable Halloween maze with a medium difficulty level. Just click on the thumbnail image that I have shared above and then right click and save the bigger printable image. Click here to download the solution to this maze.
Free Printable Halloween Maze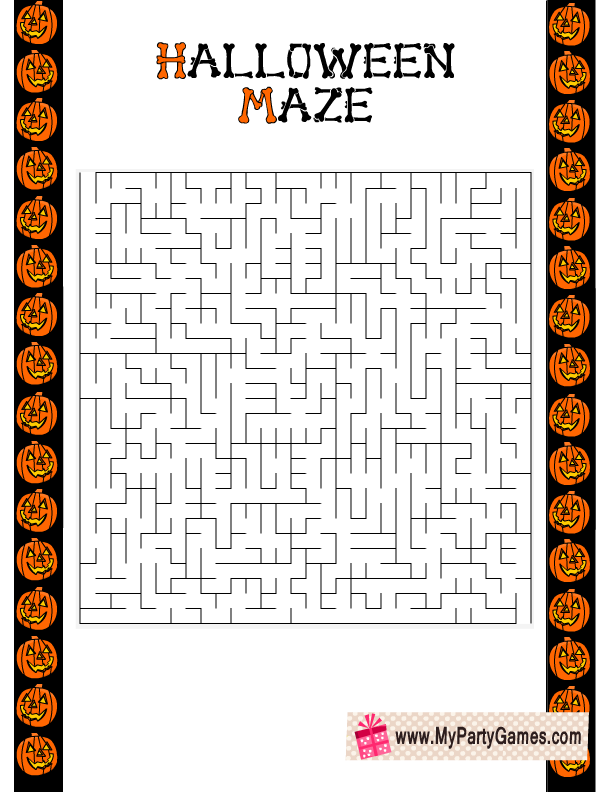 This is the second free printable Halloween maze that I have made. All the graphics that I use to decorate my games are made by me. All these games are free for personal use. Just click on the thumbnail image of this maze and get the bigger printable version. Click here to download the solved maze.
Halloween Maze Printable Free
This is the maze number three that I have created for Halloween. Just click on the image above and you will get the bigger printable PNG file. Here is the solution to this third maze.
An amazing place to find black and white mazes for Halloween with various difficulty levels. You can get a bat and vampire, ghost and haunted house, spider and web, and witch and broom mazes in easy, medium, hard and super hard difficulty levels.
Free Printable Halloween Mazes of different shapes
A collection of free printable mazes of various shapes and sizes. There is a Frankenstein, jack o lanterns and haunted house.
Another amazing collection of Free printable Halloween mazes that include ghost, skull, haunted house, moon, pumpkin and cat.
A cute free printable maze for preschoolers and young kids.
So collectively here are more than 13 Halloween mazes that you can enjoy. Happy Halloween and do not forget to share a comment here.