Who doesn't like to play charades and showcase those acting skills? Today I am sharing Free Printable Halloween Charades that are fun and interesting. You can print these charade cards by using a printer at your home or office. I have prepared these fun charades in two difficulty levels. The first two sheets are easier and you can even use these while playing this game with younger kids. The last worksheet has relatively difficult but equally funny and enjoyable charade prompts. I am also sharing some blank charade cards so you can write your own prompts in those. Just click on the thumbnail image of each sheet and save or print the bigger printable sheet.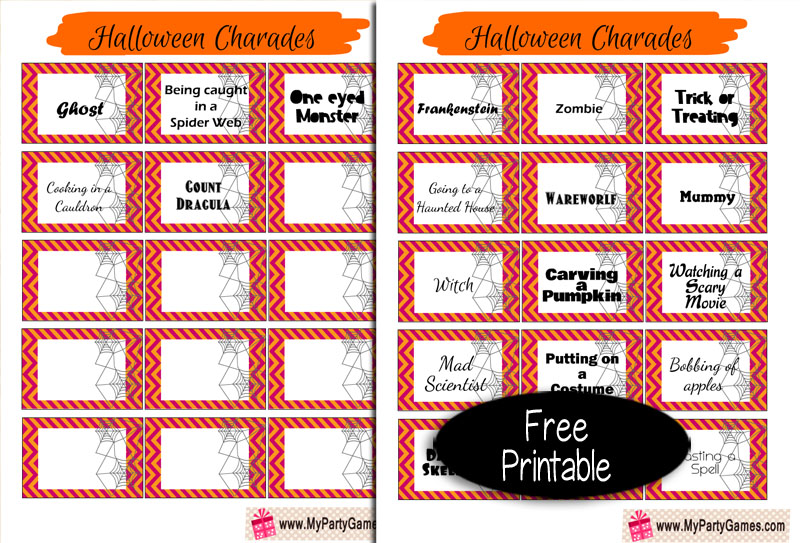 How to Play
Print and cut the charade cards around the edges. Fold the cards and put those in a jar so the players can pull out one card at their turn. You should divide the players into two teams. Each team will assign one player at their turn who will have to mime the charade for their team members and the teams will have to guess the correct word or phrase through their actions. You can assign a time limit as well. You can read the detailed instructions here if you have never played charades before.
Free Printable Halloween Charades (Easy)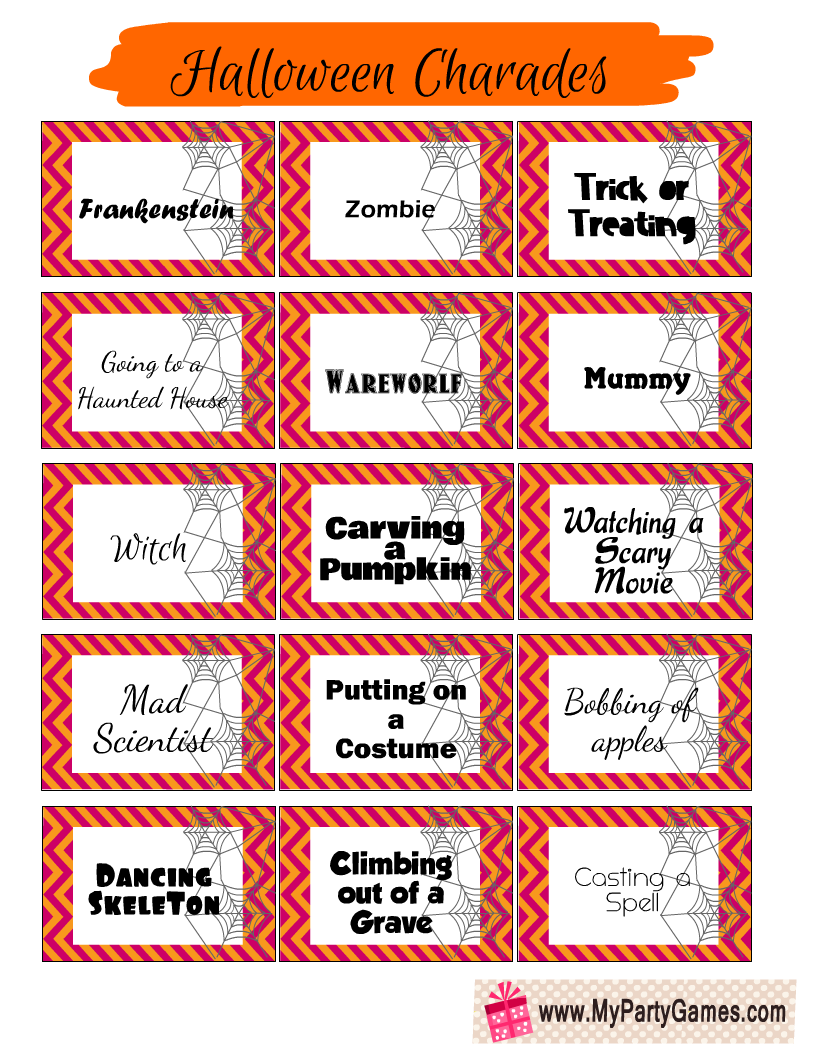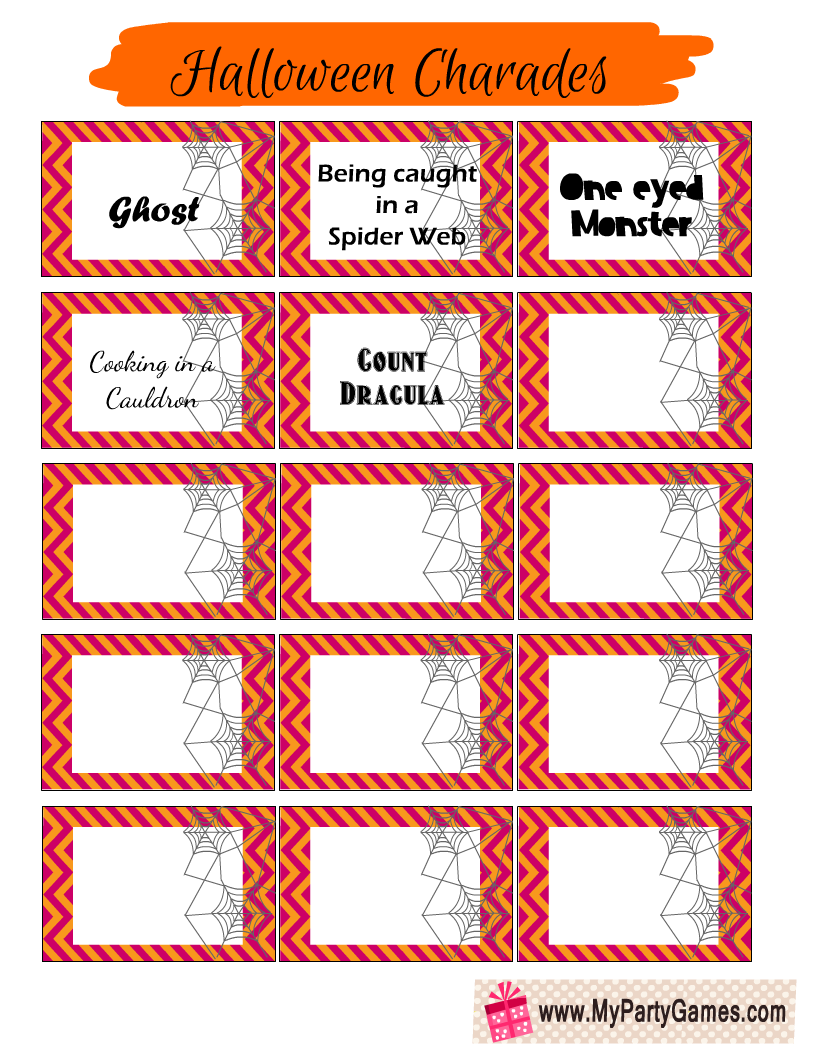 Here are the first two worksheets that I have prepared for these charades. You can cut these with scissors and can also use some cutting machine as I have tried to keep all the lines straight and aligned. These charades are easy and they are perfect for the whole family. There are also many blank cards in these sheets that you can fill up later with the prompts of your own choice.
Free Printable Halloween Charades (Difficult)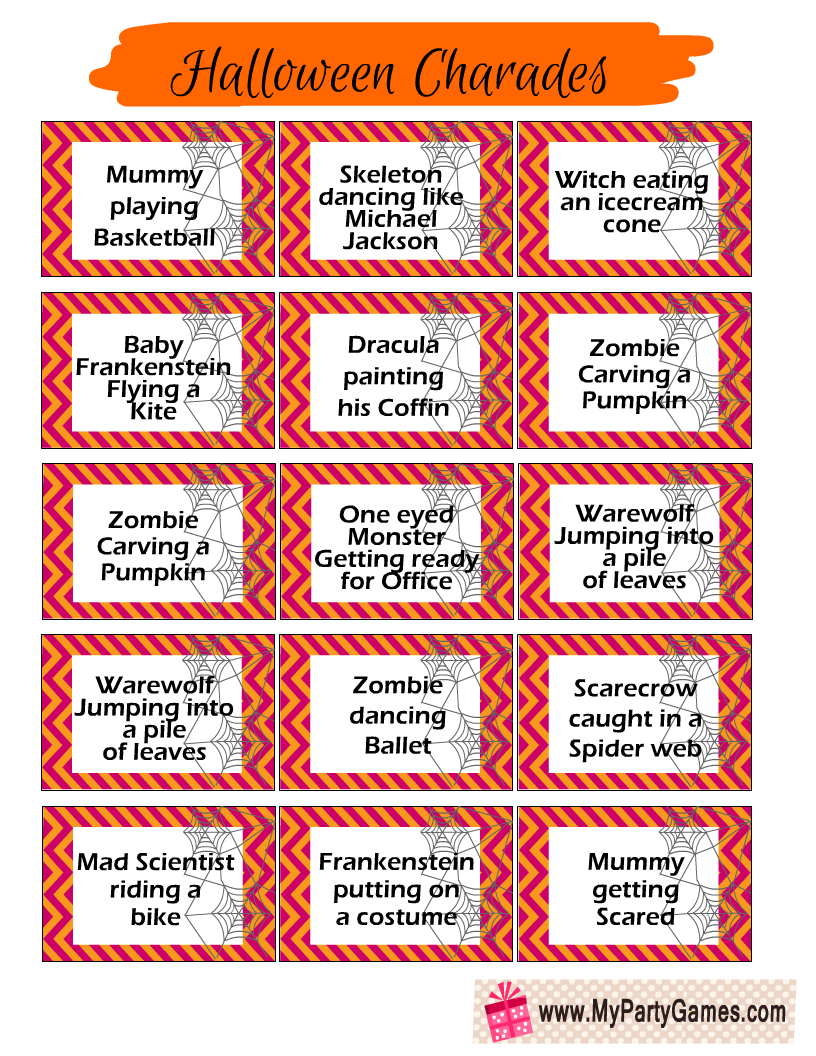 Here is this third free printable game sheet for these Halloween charades. The charade prompts given in this worksheet are comparatively more difficult but these are really funny. You can have a great fun time at your teens' get-together or an office party with these cards.
I have also collected some links to Halloween charades
This website shares some very simple but fun charade cards that are in a PDF file. These are really easy to play with and won't be heavy for the printer.
This website offers colorful printable Halloween charade cards in orange and green colors. There are cards with the prompts and also blank cards that you can print.
On this website you will not only find Free printable Halloween charades but also many more Free printable Halloween games.