Here is a very interesting and fun to play, free printable baby shower game called How many songs can you name with "Baby" in the title? . As the name suggests, the players will have to write down as many songs with the word baby in the title as they can, within the assigned time. This is a fun game that will fill up your baby shower party with fun and laughter. I have made printables for this game with chevron patterns and polka dots which will be liked by everyone.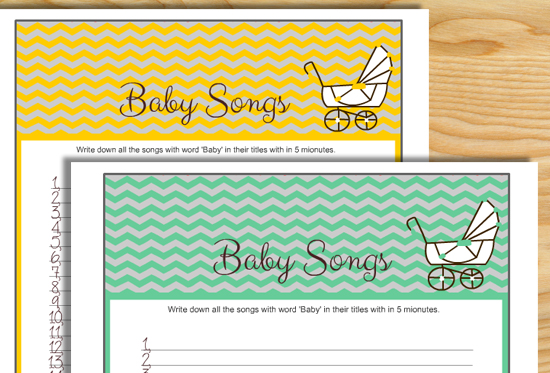 How to Play
Print and distribute the game cards among your baby shower party guests along with a pen or pencil. Ask them to write down all the songs that they know with the word 'baby' in their titles. Set a time limit of 5 minutes. The guest who has written most baby songs names will be the winner.
Free Printable Baby Songs Game Cards with Chevron Pattern
Here are three adorable and free printable game cards for this baby shower game, decorated with chevron pattern. You can download green, yellow or brown game card. Just click on the thumbnail image of the game card of your choice and a bigger image will open up. Right click and save that image. You should take print outs of all the games 2 or 3 days before your baby shower party.
Free Printable Baby Songs Game Cards with Polka Dots
Here is another adorable design for this game in 3 different color. You can print the pink game card if your are hosting a girl baby shower. A blue game printable can be used for a boy baby shower and then there is a beautiful gender neutral orange color as well. All these beautiful cards have white polka dots.
All these game cards are free for personal use. I hope you will enjoy playing these games on your baby shower party.