Today I made Free Printable Baby Shower Word Search Game in various different designs and colors. This game would be a perfect game for your baby shower party. I have made these free printable game cards in pink color for girl baby shower, in blue color for boy baby shower and also in rainbow colors which are gender neutral. You can choose and print any card that you like. All my games are free for personal use.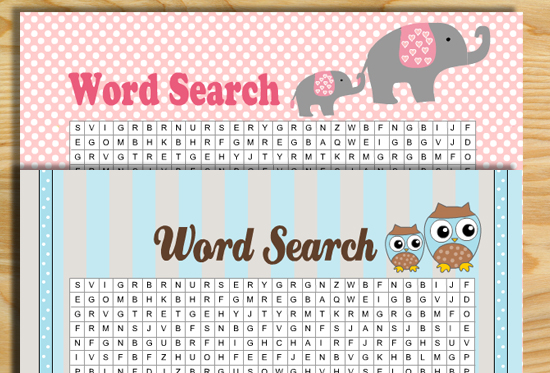 How to Play
Print one card for each participant of your baby shower party. Distribute the cards among your guests along with a pen or pencil. Ask them to find as many words as they can from the list provided below the game card. The guest who will find most words will be the winner. You can also assign a time span of 5 minutes or 3 minutes in which guests will have to find the words. Click here to download the solution for this game.
Free Printable Baby Shower Word Search Game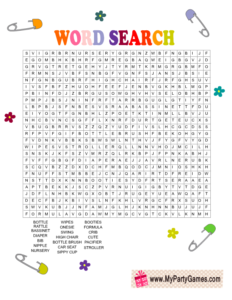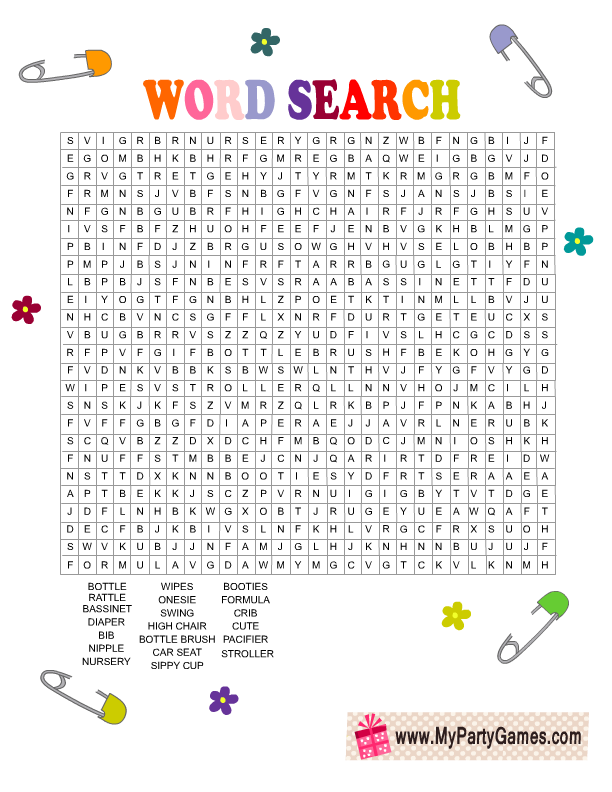 This is the first game card that I have prepared for this baby shower game. It has colors of rainbow so you can use it on any party whether it is a girl baby shower or boy baby shower. There are cute safety pins and flowers scattered around a white background that make this game colorful and fun. Just click on the thumbnail image of the game and a bigger image will open up, right click and save that image.
Baby Shower Word Search Game featuring Elephants
Here are two super adorable free printables for this baby shower word search game. These have a background with white polka dots and a cute mommy elephant and baby elephant on each card. Print pink card for your girl baby shower and blue one for boy baby shower.
Baby Shower Word Search Game Printable featuring Owls
Here is another beautiful design for this baby shower word search game. There are two color variations. One is pink and other is blue, with a striped background. There are a mommy owl and a baby owl on each card.
If the Baby Shower Word Search Game cards that I have made on this site are not enough, do not get disappointed as I have collected many more Word Search Games for you that you can play on your Baby Shower.
On this site you will find adorable word search game cards in four different colors.
Some word search game cards for woodland baby shower
Search some baby animals on your baby Shower Party.
Cute Word Search Puzzles in two different colors. Kelly has made PDF files in pink and blue.
I love the word search puzzle sheets that they have provided on this website. These are simple, printer friendly but with very cute graphics.
I am totally pleased with these lovely Free Printable Baby Shower Word Search Game cards that I have created today and also with the links that I have shared. Please give me feedback using the form given below.