Today I have made this Free Printable Baby Dress Up Game for baby shower. This is a very original (my husband's idea) , unique and fun game that can be played on any baby shower party and you can also play it with your kids at home. It can serve both as a kid and an adult game. I have made some really cute and fun printables for this game. I have made a caucasian baby and also an African-American baby so my African-American friends can also enjoy playing this game on baby shower party.
How to Play
Take print outs of the baby and baby's clothes sheet according to the number of your baby shower party's guests. Cut the baby's clothes around the edges. I know that it would be tough but this game is surely worth the hassle. On your baby shower party, sit around the table and give each guest a sheet with the baby in diaper and place baby's clothing on the table. Each guest would take turns and roll a dice and pick one baby item according to the number on the dice. The guests should place or paste that piece of clothing on the baby. The guest who dresses up the baby first will be the winner.
Free Printable Caucasian Baby Dress Up Game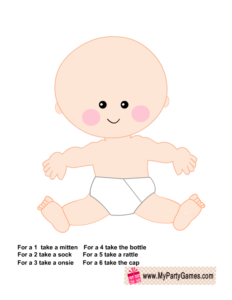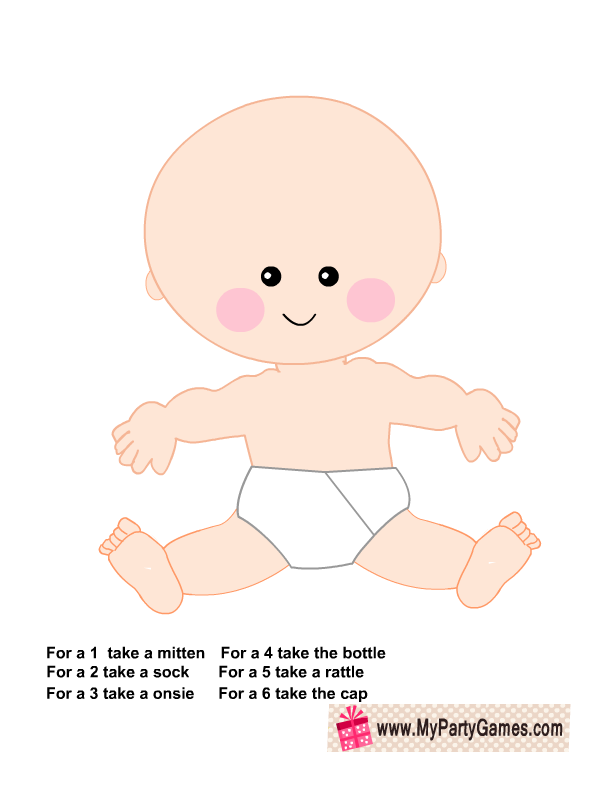 Click on the image above and right click and save the bigger image that will open up. I am pretty sure that your baby shower party guests would love to dress up this cute baby.
Free Printable African-American Baby Dress Up Game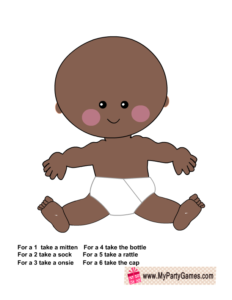 If you are hosting an African-American baby shower then take a print out of this cutie pie that I have shared above.
Blue clothes for Baby Dress up Game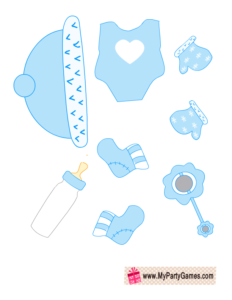 If the mom-to-be is expecting a boy then print this sheet of baby clothing that I have shared above. These cute clothes are in blue color and there are two socks, two mittens, one onsie, one cap, one milk bottle and one rattle in this sheet.
Pink clothes for Baby Dress up Game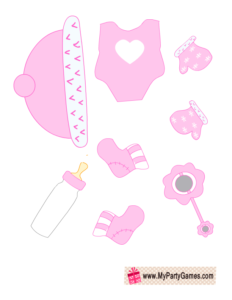 If mom-to-be is expecting a girl then print this sheet with pink clothes for the baby.
Gender neutral clothes for Baby Dress up Game
Here are two sets of clothes for this dress up baby shower game in gender neutral colors. One set is yellow and other is green.
This game will add lots of fun to your baby shower party. You can also play this game with your girls and they will enjoy it for sure. My ten years old cannot wait till I print this game and play it with her.