This is a fun free printable Birthday game called Happy Birthday Around the World Game. I have made printables for this game in 4 different colors to match the theme of your birthday party. You can check the knowledge of foreign languages of your guests through this game. They should know how birthday is greeted in other languages.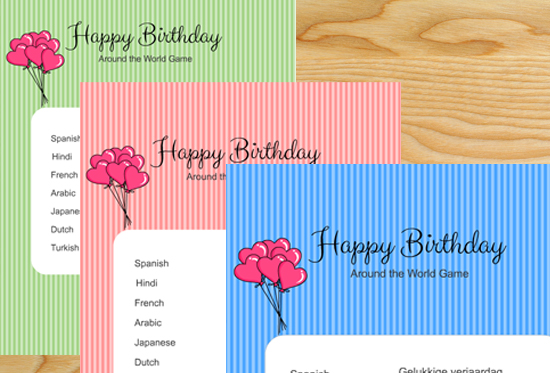 How to Play
Distribute the happy birthday around the world game cards that you have already printed, among your guests along with a pen. Ask them to match the language, with how they say 'Happy Birthday' in that language with in 5 minutes. The guest who will match all the languages correctly will be the winner. I am sharing the answer sheet for this game below, so you can check if guests have matched it right.
Free Printable Happy Birthday Around the World Game in Blue Color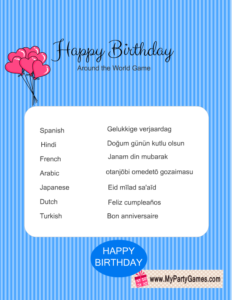 This is an adorable game card for this fun to play game in blue color. Just click on any thumbnail image of the game and a bigger image will open up. You can right click and save that image.
Happy Birthday Around the World Game in Pink Color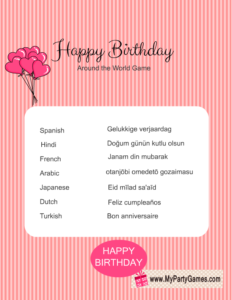 This is another beautiful color for this game. Choose pink color if the birthday party is being hosted for a lady.
 Happy Birthday Around the World Game Free Printable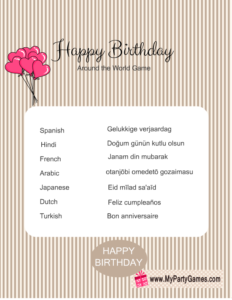 This is another free printable game card in brown color tones.
Around the World Game in Green Color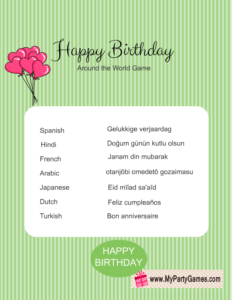 This is another color variation for this very interesting around the world game.
Around the World Game Solution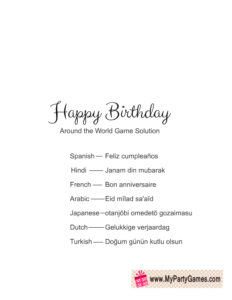 This is the solution for this free printable birthday game. You will need copies of this game according to your birthday party guests but only one copy of this game solution will be needed.
Please feel free to leave your comments and suggestions on this post.