Consequences is a fun game just like mad-libs. Today I have made Free Printable Baby Shower Story Consequences Game in three different colors. Up to 19 players can play this fun baby shower game and can create a hilarious story. I have made printables for this game in yellow, blush, and blue colors. You can print this game in the color of your choice, according to your baby shower party's requirements. The story might sound like, Title: Story of the dark ape, Mom-to-be was angry, Dad-to-be was a doctor. They met at the circus, In order to bring peace to the world… and so on. Let's see how creative your guests can be. You will need just one print-out to play this game for up to 19 guests. If you have more guests then you might take two print-outs and create two different stories.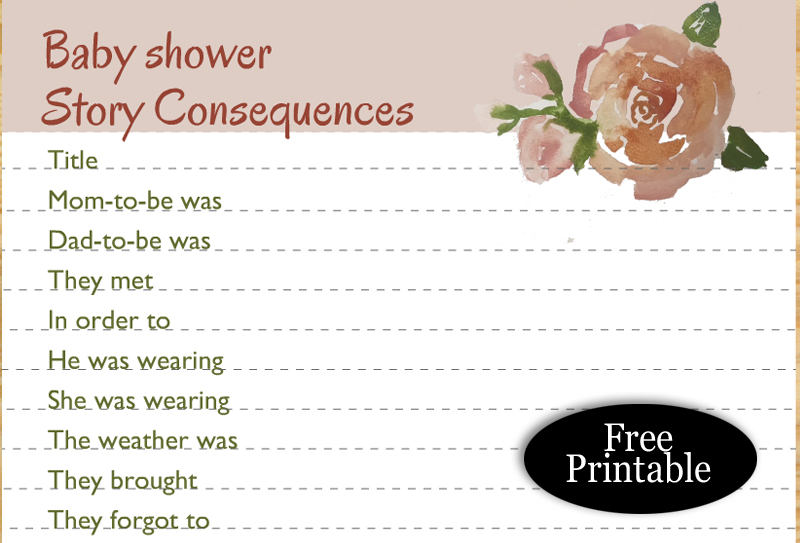 How to Play
Print and accordion fold the game print-out over the dashed lines. This way only one line will be visible to each guest on their turn. Ask the guests to write down a line for the story according to the prompt that is given on that line. Make sure that they cannot see the sentences given above their lines or the prompts that are given below their line. When all the lines are filled up, unfold the paper and read the story out loud. It might sound really silly but it will be hilarious and make your guests laugh for sure.
Free Printable Baby Shower Story Consequences Game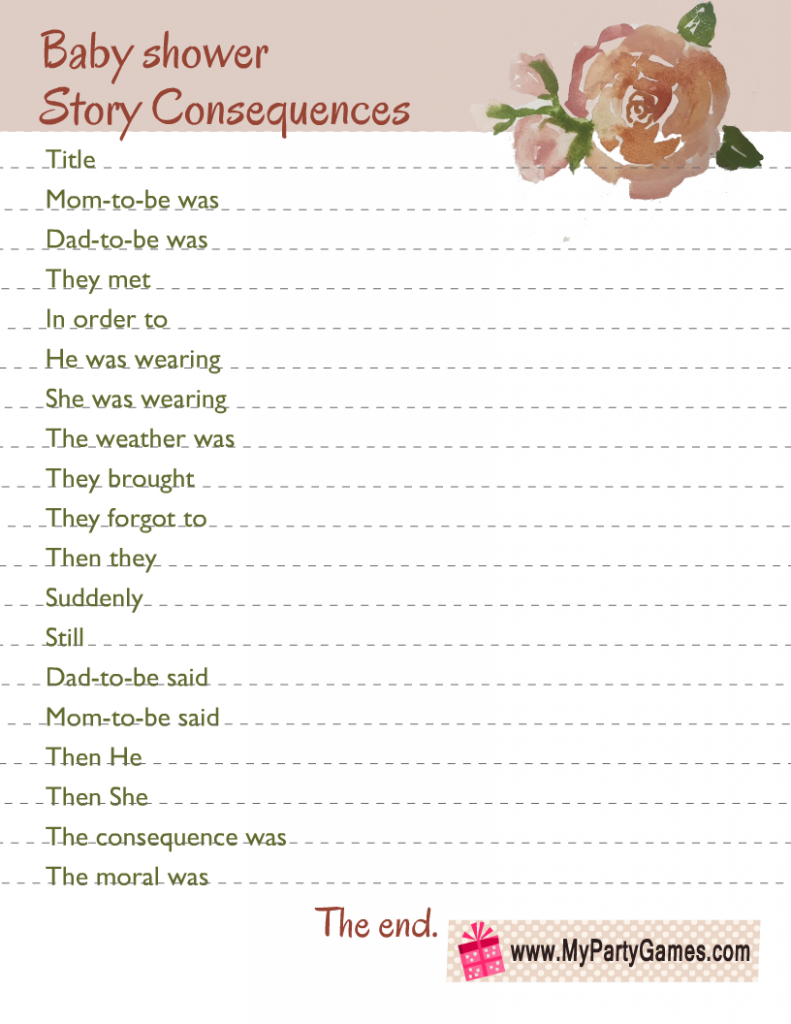 This is the first printable sheet for this baby shower story consequences game. This game worksheet is decorated with a blush pink rose. This design is perfect for a girl baby shower party. Just click on this thumbnail and the bigger high-resolution printable image will open up, that you can save.
Baby Shower Story Consequences Game Printable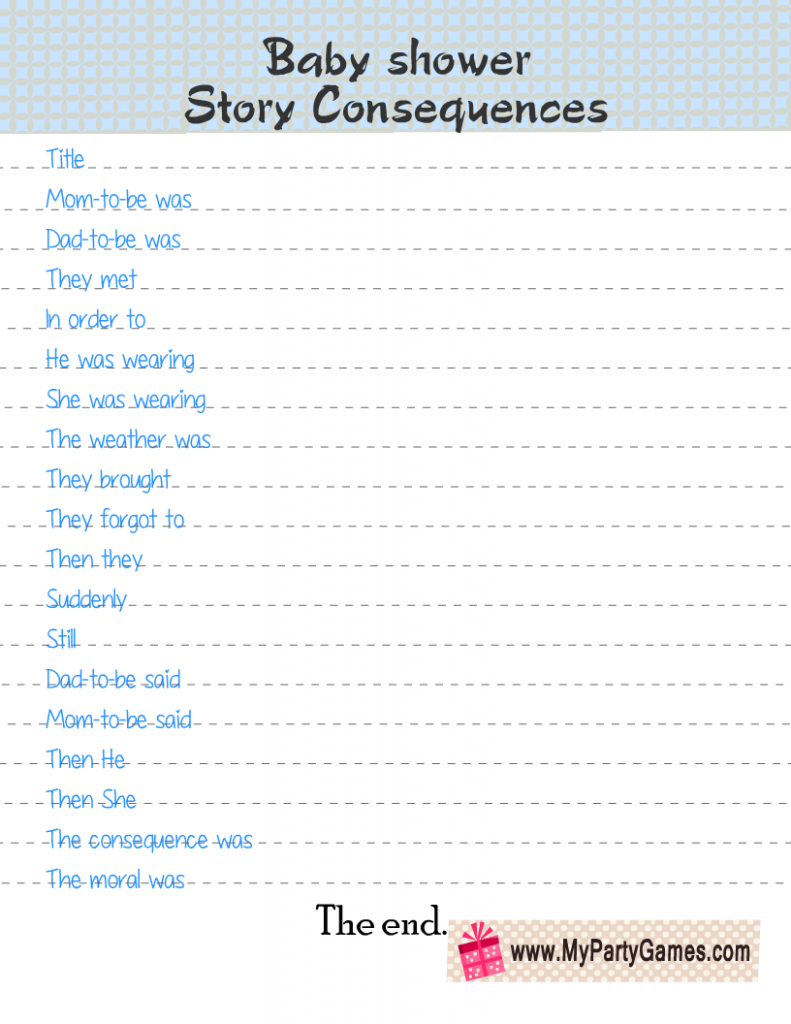 This is another free printable for this game in blue color. This printable is perfect for a boy baby shower party. If you like this color more then save this game and print this for your baby shower party.
Baby Shower Story Consequences Game in Yellow Color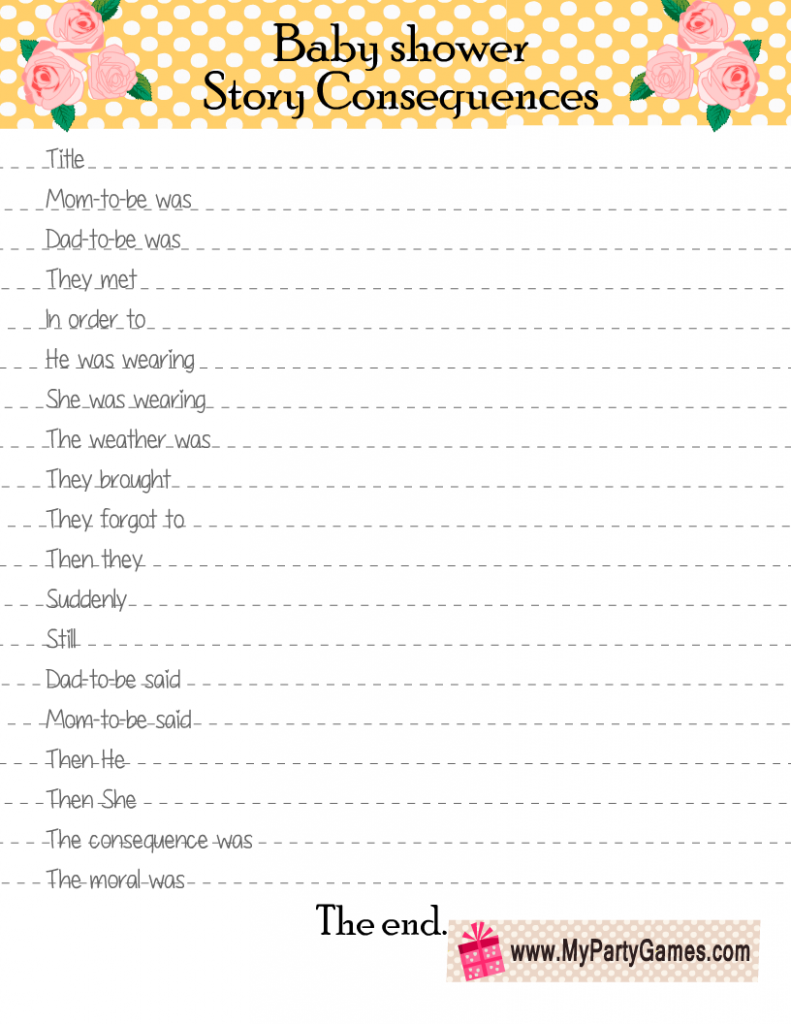 Here is another color for this game and this is a gender neutral yellow color. This cute printable game card is decorated with yellow and white polka dots. Just click or tap on this image and the printable image will open up.