I have made many free printable cards for Bridal Shower Scattergories Game that you can download from this page. I have made unique floral graphics for each cards. Some cards use the word love and some use the word bride. You can pick and download the game card that you like the most. This game is a real crowd pleaser and it will fill up your party with fun and laughter. All the graphics that I have used in my games are original and created by me except a few floral elements are a freeboie from Thesmellofroses. All my games are free for personal use and your can easily print these at your home. Today I have made mostly floral designs for this game in various color combinations.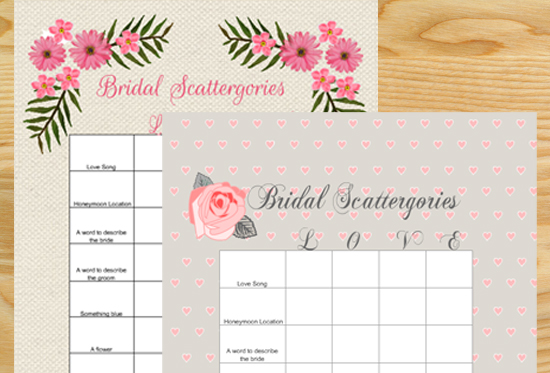 How to Play
Print out one game sheet for each guest and ask them to write a unique word for each category using the letters written above the lined grid. If two players write the same word, their answer will be cancelled. Each guest will get 1 point for each unique word and the person with most points will be the winner.
Free Printable Bridal Shower Scattergories Game
Here are three beautiful floral versions of this game. One has white background while the other have a nice textured background. These flowers are one of my most favorite graphics that I have created. You can download and print the game card that you like most.
Printable Scattergories Game for Bridal Shower
Here is another beautiful design for this bridal shower scattergories game. One game card uses the word 'bride' while the other has the word 'love'. You can print the one with the word you like more or you can print both.
Floral Scattergories Game Printables

All the printable game cards that I have created today have floral designs. Here are two other beautiful designs for this game. One is in pink while other free printable scattergories game card is in purple and taupe color combination.
Here are some more links from around the web for different printables for Bridal Shower Scattergories game.
Amazing printables in three colors which are pink, teal and a beautiful green.
On this website, you will find a simple and cute printable for this game. You can print two games on one A4 size paper.
Please pin my games on Pinterest but do not post my images in your website. Please leave a comment below with your questions or suggestions.