On this page I am sharing Free Printable Thanksgiving Picture Bingo Game. I have made ten different bingo cards with adorable graphics and these cute bingo cards would be loved by kids. You can play this cute game in your classrooms and also at your home with your kids and family. This fun bingo game will make your thanksgiving celebrations super fun.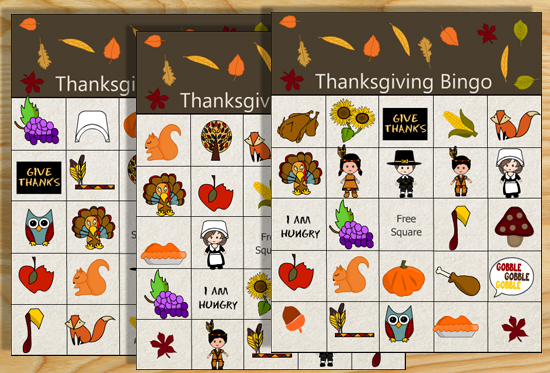 How to Play
Print and distribute these super cute Thanksgiving Bingo Cards among your family members and other players along with a pen or pencil. Take the caller's checklist and start announcing names of the Christmas related pictures and objects one by one in random order. You can also take a printout of the caller's checklist, cut the pictures and put those in a basket. Draw the pictures one by one and show it to the players. The players will have to cross the picture on their bingo cards when it's name is announced or picture is shown. The player that gets a complete horizontal, vertical or diagonal row crossed first should shout 'Happy Thanksgiving' or 'Bingo' in loud voice and he or she will be the winner. In the case of using duplicate cards, the player who shouts 'Happy Thanksgiving' or 'Bingo' first will be the winner.
Free Printable Thanksgiving Bingo Game Cards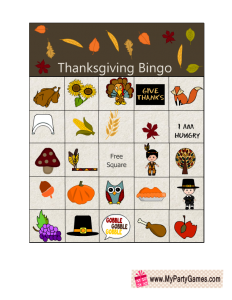 This is one picture bingo game card that you are seeing here but I have enclosed all the Free Printable Thanksgiving Picture Game Cards in a zip file that you can download by clicking here. 
This zip file is safe and virus free. There are ten Bingo cards and one caller's checklist included in this zip file. All the files are in PNG format. Up to ten players can play this game easily and you can print duplicate Bingo cards as well if more people want to play.
If you have any questions, you can ask by leaving a comment in comment section below. Please pin this game on Pinterest and share the link on other social media platforms as well.