On this page, I am sharing Free Printable, How many Easter Items can you name? Game. I have made three worksheets for this game with different designs. You can print this game in the design of your choice by using a printer at your home. You can play this game with your family, print this for your kids and can also play this in classrooms. People will have to use their Spring and Easter related vocabulary to play this game.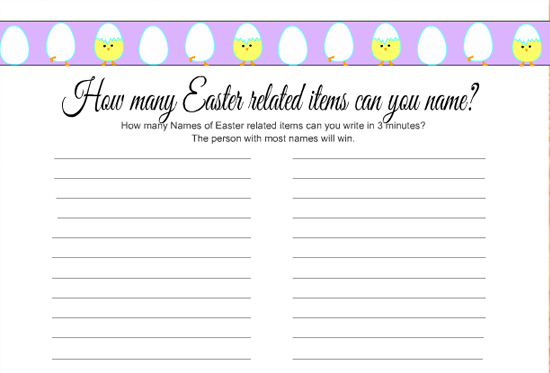 How to Play
Print and distribute the game cards among the player along with a pen or pencil. Set the timer to 3 minutes. Ask them to write down as many Spring and Easter related words as they can within three minutes. The person who writes down most Spring and Easter related words will be the winner.
Free Printable How many Easter-related words can you name? Game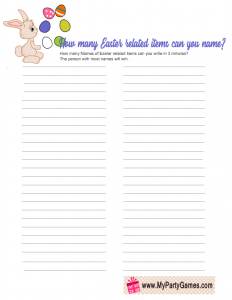 This is the first free printable for this game. This game card is decorated with the image of a cute Easter bunny, juggling Easter eggs. This game card is simple and minimalistic yet cute and just perfect to play this Easter game. Click on the thumbnail of this game and a bigger image will open up, you can save or print that.
How many Spring and Easter words can you name? Free Printable Game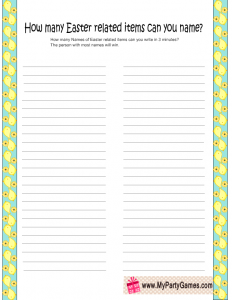 This is another design for this free printable game. This cute design is decorated with Easter chicks and flowers washi tape like pattern. Just click on the thumbnail of this image and then save or print the bigger image.
Name Spring and Easter items Game Printable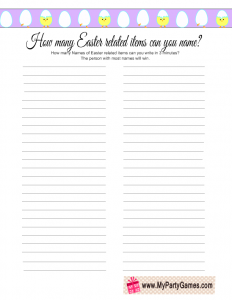 This is another free printable design for this Spring and Easter game. Just click on the thumbnail image and you will get the bigger printable one.
Please pin the thumbnails on Pinterest and share the links to this post on social media platforms.