I spy is a fun game for kids and it helps with learning maths along the way. Adults can join in too and have some Easter fun with the kids. I have made two super adorable Easter I spy game printables along with their keys and have collected links to more than 18 Easter I spy games from the web so you have plenty of options to choose from. The worksheets that are created by me use original graphics that are created by me as well.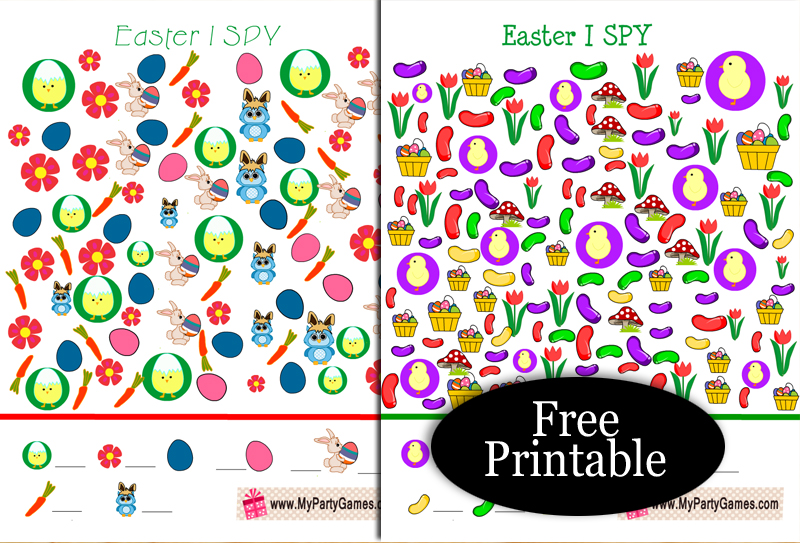 How to Play
Print the I spy game printable in the design of your choice and give it to the kids (and adults). Ask the players to count the objects and note down their numbers at the end of the page in front of the respective object. The player who finds and counts all the objects correctly first wins.
Free Printable Easter I Spy Game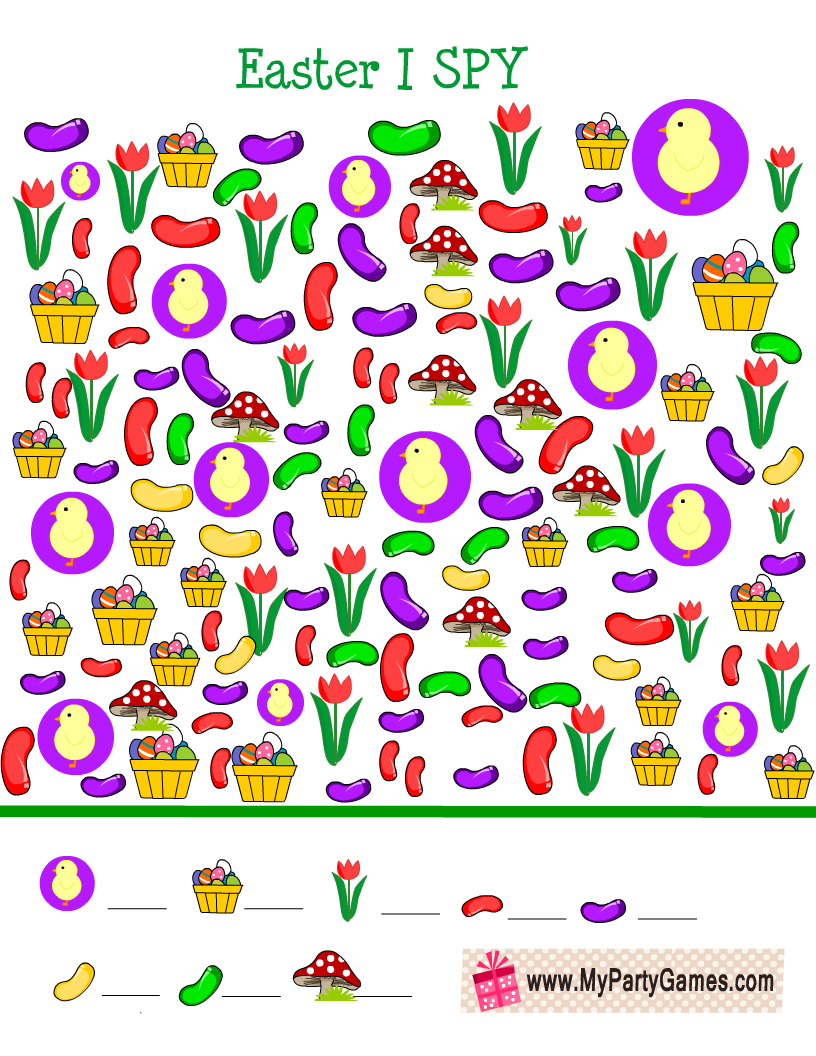 Here is the first adorable I spy activity sheet that I have prepared. This free printable game sheet has cute baby chicks, Easter baskets, Tulips, and jelly beans in different colors. This is a fun free printable and you can print it by using a printer at your home or office and can also get it printed from a print shop.
Just click or tap on the thumbnail image, as per your device and the high-resolution image will open up.
Here is the answer key to this game.
Free Printable Easter I Spy Game Answer Key
Free Printable Easter I Spy Game number 2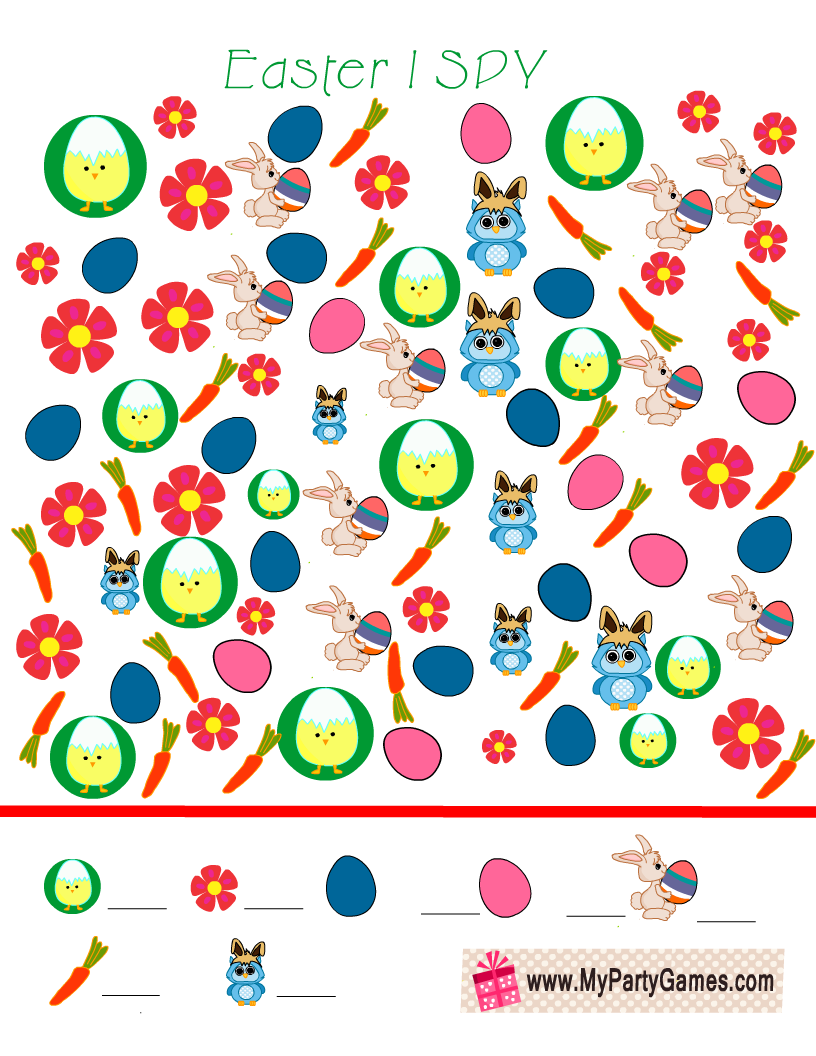 Here is the second free printable Easter I spy game that I have prepared for you. This game card has baby chicks, carrots, flowers, Easter eggs, owls with bunny ears, and bunnies to count.
You can download the answer key to this I spy game below.
Easter I Spy Game number 2 Answer Key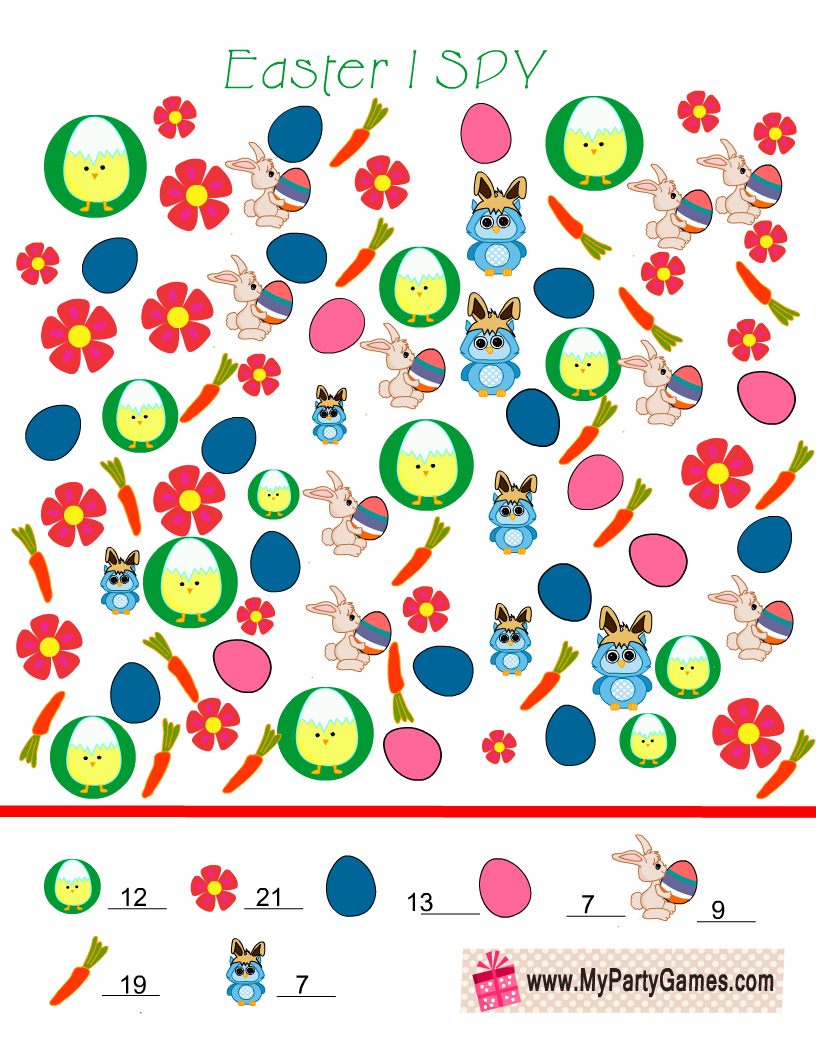 More Free Printable Easter I Spy Games
Now it is the turn for some more I spy printables that I have found on the net. If your kid loves this game then make sure that you have plenty. This game is a fun playdate game and can also keep kids busy on long road trips. Please help your kids to spend some gadget-free time with the help of these games.
This website shares an adorable I spy game in two difficulty levels. One is easy and suitable for younger kids and the other is a bit harder.
You can download a fun PDF I spy game printable from this website, however, there is no answer key.
Over the big moon offers a very very adorable free printable version of this game and the object count is given right on their website.
This website offers 9 super adorable Easter I Spy game coloring cards and the answer keys to those.
Here is another I spy game with cute bunnies, eggs, and baskets to count.