On this page I am sharing Advice for the Bride Free Printable Cards. This not exactly a game but an activity for bridal shower or hen's party that will serve as a keepsake for the bride-to-be. I have made these free printable cards in many designs and colors. You can print these cards easily using your home printer. You should print these cards according to the number of your party guests.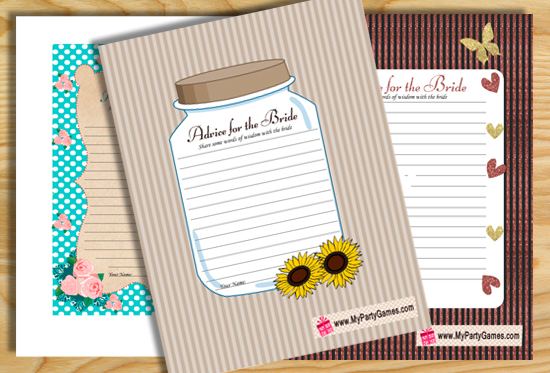 How to Play
Print and distribute the Advice for the bride cards in the design and color of your choice, one day before the bridal shower or hen's party. Distribute these cards among the party guests along with a pen. Ask them to write down a piece of advice for the newly weds. This advice could be naughty as well if you are having a bachelorette party. Collect all the cards and show these to bride-to-be. She will read all the advices and select the best piece of advice. The person with best piece of advice will be the winner. She can keep the cards with her as a keepsake. She can also get the cards laminated for durability.
Advice for the Bride Free Printable Card featuring Mason Jar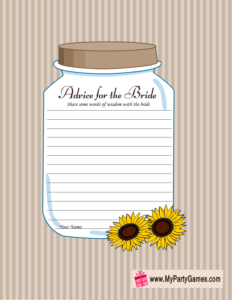 Mason jars and sunflowers are loved by everyone. You can print this adorable game card if your are having a rustic, shabby chic or mason jar themed bridal shower. These beautiful cards will do on any other themed party as well. Just click on the thumbnail image of this card and then right click and save the bigger image.
Advice for the Bride Free Printable Cards in three Colors
This is another beautiful design for this advice for the bride cards. This design is decorated with roses and polka dots. I have made these cards in 3 different and beautiful colors so you can pick and print the one that you like most.
Advice for the Bride Free Printable Card in Rose Gold Glitter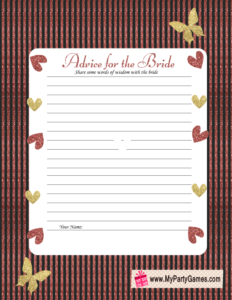 Here is another very beautiful design that I have made for these cards. This beautiful card is decorated with stripes in grey and glittery rose gold colors. I have also made cute rose gold and golden butterflies on it. This glitter wont be printed with shine but it will give effect of a shiny paper. This elegant design will be loved by your bridal shower party guests and also bride-to-be would love it.