On this page, I am sharing a free and fun picture bingo game cards that I have made for you and also sharing free printable bingo game links made by others. You can print these game cards using a printer at your home. There is no other game like Bingo when a bunch of kids and family members are together. I have made 10 Bingo cards so ten players can easily play this game. If more players are playing, you can print duplicate cards.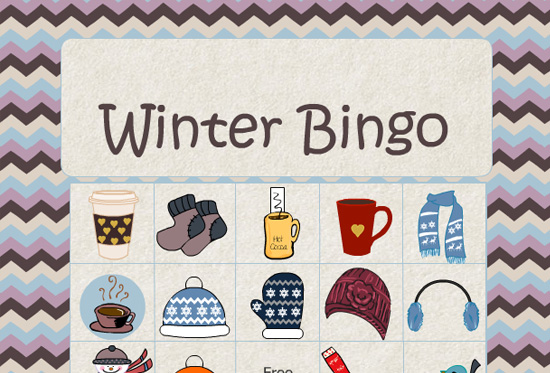 How to Play
Print and distribute these super cute Bingo Cards among the players along with a pen or pencil. Take a printout of the caller's cards, cut the pictures and put those in a basket or jar. Draw the pictures one by one and show it to the players. The players will have to cross the picture on their bingo cards when their picture is shown. The player who gets a complete horizontal, vertical or diagonal row crossed first should shout 'brrrrrr or 'Bingo' in loud voice will be the winner. In the case of using duplicate cards, the player who shouts 'brrrrrr' or 'Bingo' first will be the winner.
Free Printable Winter Bingo Game Cards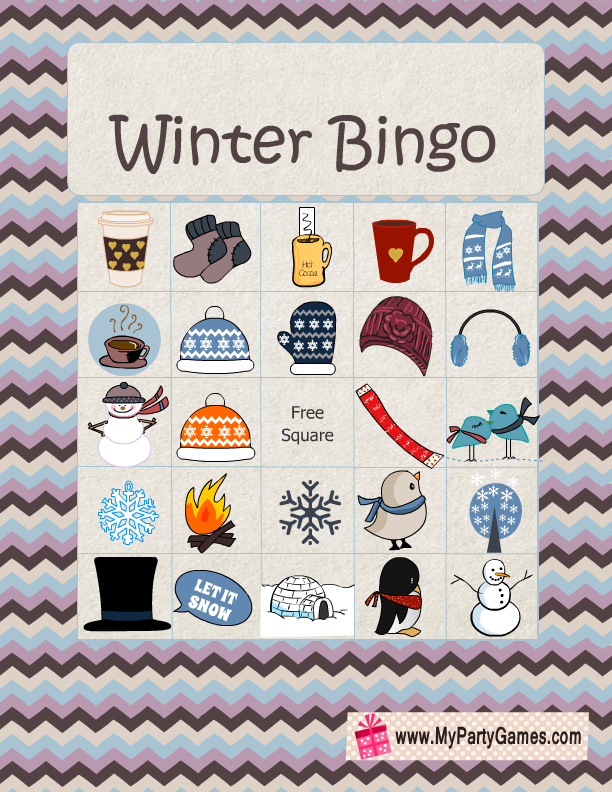 Click on the image above or click here to download the zip file with 10 free printable winter bingo game cards and a caller's checklist. All the winter bingo cards are decorated with a chevron pattern and beautiful winter related images. You are not allowed to share the zip file or these images on your website. You can only share a link to this page.
Free Printable Winter Bingo Caller's Checklist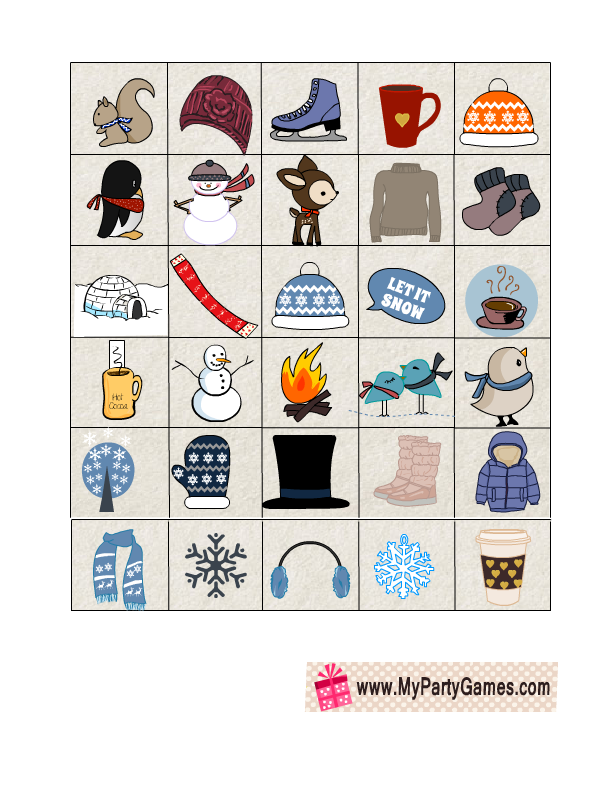 This is the caller's checklist to give you an idea of the all adorable graphics that you'd see in this Bingo game.
Here is a list of links to Free Printable Bingo Cards that I have collected from around the internet.
An adorable set of Bingo cards with images of penguins, mitts, and caps made in kawaii style.
Another website with Cute Free Printable Bingo Game Cards. These cards are colorful and adorable.
This website offers game cards that you can prepare yourself.
A collection of Bingo Cards for four seasons including Winters.
Please post the links to this post on Facebook and Pin it on Pinterest.