Today I have made Free Printable What is your Unicorn Name? Game in two different designs. I love glitter, rainbow, and unicorns. Who doesn't? I have collected these unique unicorn names and one is yours. Have fun at the party with the help of this fun printable game. There are many paid versions of this game available online but I have made these absolutely free printables.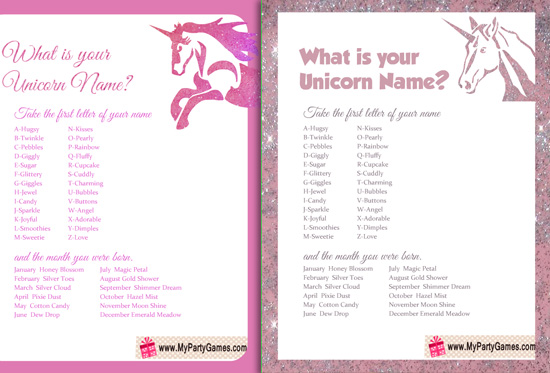 How to Play
Print just one copy of this what is your unicorn name game in the design of your choice. Each player should figure out his or her name and share with others. All the other players should keep calling that player by her unicorn name. Any player who will call the other player by his or her real name will lose. Only the person who keeps calling the other person by their unicorn name throughout the party will be the winner. You can play it with any other creative way that you may like. You can also use this printable to know your own unicorn name.
What is your Unicorn Name? Game Free Printable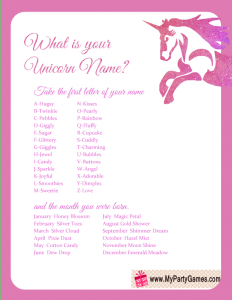 This is the first free printable image of what is your unicorn name game. This adorable free printable is decorated with a glittery beautiful unicorn. Just click on the thumbnail image and a bigger image will open up, right click and save that.
What is your Unicorn Name? Free Printable Game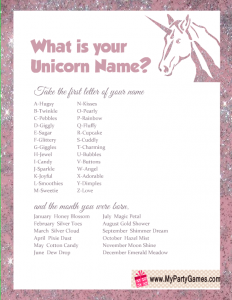 This is another adorable printable for this game. You can print it using any printer at your home or office.
This is a perfect printable for a unicorn themed birthday party or any slumber party.