Sleepover or slumber parties are all about girls, fun and giggles. I am going to create many free printable games and activities that girls can enjoy on their slumber parties. Today I am sharing this Free Printable Spin the Nail Polish Bottle, Fortune Teller or Fortune telling game that all the girls will thoroughly enjoy. They can ask questions about their grade, their crush or anything that they may like with this fun fortune teller.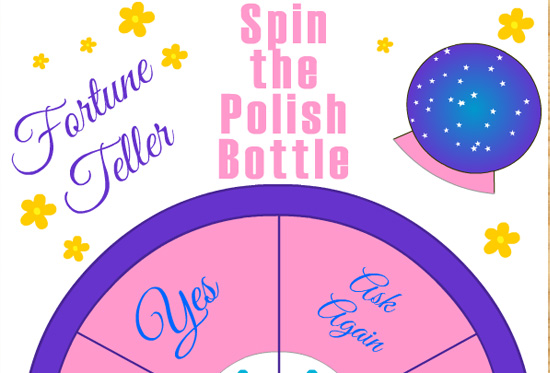 How to Play
Print one copy of this spin the nail polish bottle fortune teller. Ask the girls to sit in a circle and put the nail polish bottle in the middle of this fortune telling game. Each girl will ask one question aloud and then spin the bottle. They bottle will point to the answer about their future.
Spin the Nail Polish Fortune Teller, Slumber Party Game for Girls
This is this colorful and fun free printable girl's slumber party game. Just click on the thumbnail image and a bigger image will open up, right click and save that image.
I am sure that the guest girls and your own girl will thoroughly enjoy these games.