Today I have created Free Printable MASH Game for Girls Slumber Party. This was a very popular game among girls in the 80's and now it is again getting popular. I have made this game in three different designs. You can print it in any design of your choice. This is a perfect game for an all-girl slumber party, sleepover party or even for the birthday parties of teen and tween girls. I have made two designs for this game with category names and one blank template in which the girls can write the names of their own categories.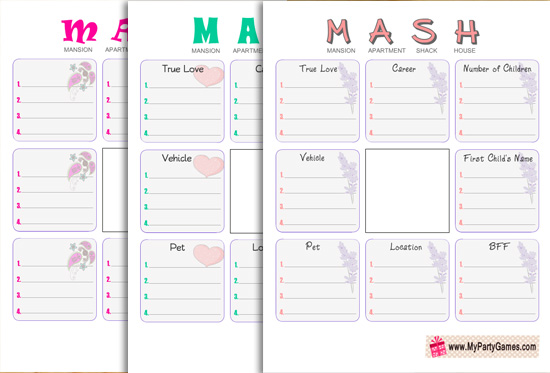 How to Play
Fill up all the blanks in the category lists. Ask the player to close the eyes and draw a spiral in the center of the page till the other player asks her to stop. When she is done, count how many times has she gone around. Using the number begin crossing off answers until she has only one left in each category to reveal her future. They have explained three ways to play MASH game on wikihow.
Free Printable MASH Game for Girl's Slumber Party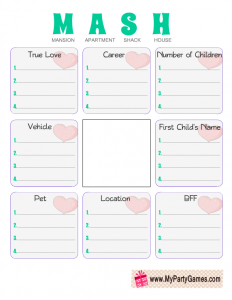 This is the first free printable of this popular mansion, apartment, shack, house game in mint and pink colors. There are 8 different categories and one blank box to draw the spirals or dots. Just click on the thumbnail image of this game a bigger image will open up. You can right click and save that image.
Free Printable MASH Game for Girls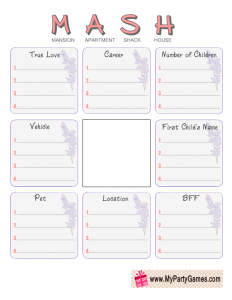 Here is another printable for this fun future telling game for girls. There are 8 categories like true love, career and number of children etc. Just click on the thumbnail image and then right click and save the bigger image.
MASH, Free Printable Party Game for Girls (Template)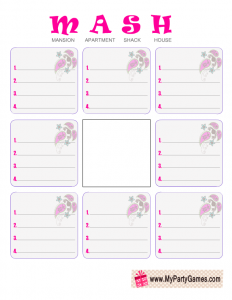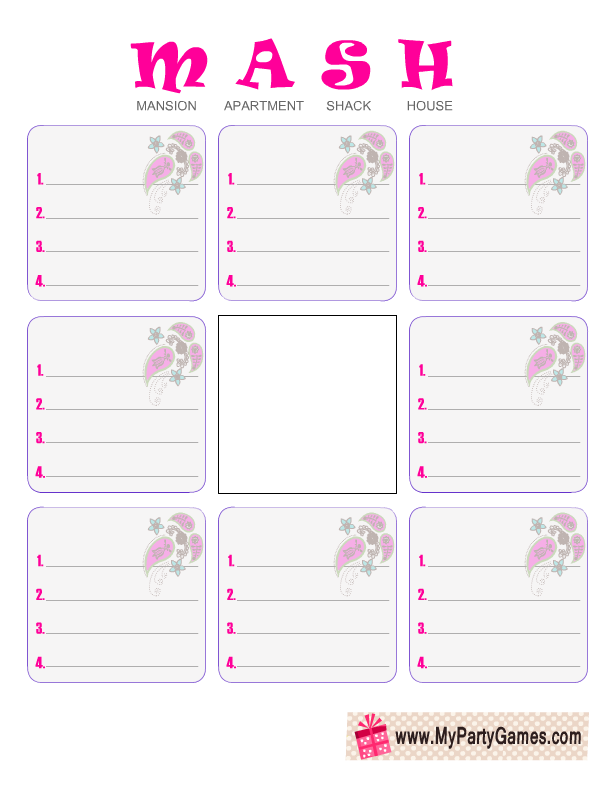 This is a blank template for this very popular girls game. You can write your own category name in each category box. This fun game will fill up your party with giggles and laughter.
Here are some more adorable free printables that we have collected for you. You can download more adorable game templates by going on these links.
I hope that your girl and her friends will love this game. Please do not forget to pin the images on Pinterest.