Today I have created ten adorable Free Printable Sleepover / Slumber Party Bingo Game for Girls. You can play the famous Bingo game with the help of these cards on the girl's birthday party as well. I have made original graphics that I use in my games so please do not steal my work or images. You can easily print these bingo cards using a printer at your home or office. I have enclosed these cards and the caller cards in a safe to use zip file. You can print the cards according to your need and requirement.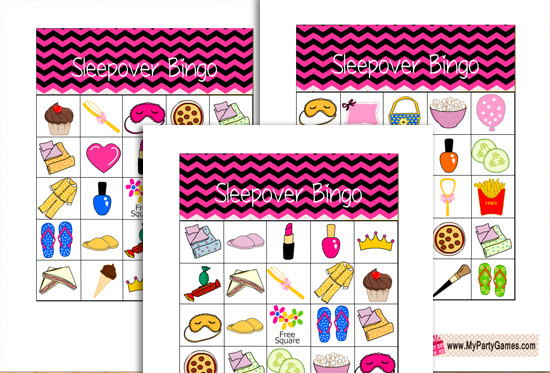 How to Play
Print and distribute these adorable slumber party Bingo Cards among the girls along with a pen or pencil. Take a printout of the caller's cards, cut the pictures and put those in a basket or jar. Draw the pictures one by one and show it to the players. The girls will have to cross the picture on their bingo cards when its picture is shown. The player who gets a complete horizontal, vertical or diagonal row crossed first should shout 'yay' or 'Bingo' in loud voice will be the winner. In the case of using duplicate cards, the player who shouts 'yay' or 'Bingo' first will be the winner.
Free Printable Sleepover / Slumber Party Bingo Game Cards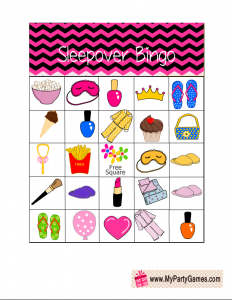 Click on this Sleepover Bingo game card image to save the zip file that has ten bingo cards and a sheet full of caller cards. You can also click here to download this Slumber Party Bingo game. All these Bingo game cards are decorated with an elegant black and Pink Chevron Pattern. Each card is decorated with adorable and different slumber party graphics.
I am sure that the girls will love this game and also adore these cards.