On this page, I am sharing Free Printable Slumber or Sleepover Party Word Scramble Puzzle. There are 16 slumber party and girl fun related words that little girls can play to have some fun. This is a perfect game for a tween girl's slumber party but older girls can enjoy it too. I have made this game in 3 different design. You can print this game in the design of your choice. I am also sharing a solution to this game at the end of this page.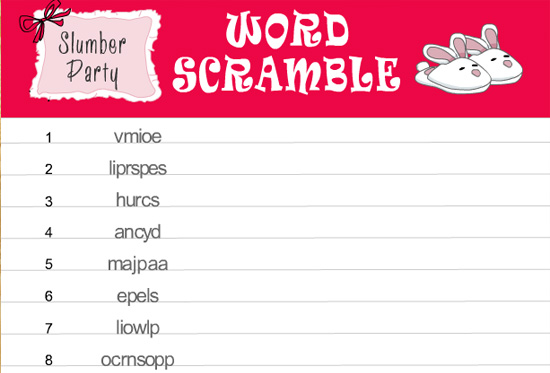 How to Play
Print and distribute the word scramble puzzle cards among all the players, along with a pen or pencil. Ask the girls to unscramble all the jumbled up words. The girl who unscrambles all the words correctly, first, will be the winner.
Free Printable Slumber Party Word Scramble Puzzle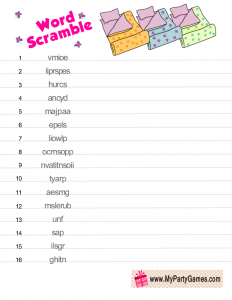 This is the first free printable word scramble puzzle that I have created for your girl's sleepover party. Click on the thumbnail image and a bigger printable image will open up. You can save that image or print it right away. This cute free printable is decorated with three colorful sleeping bags and butterflies.
Sleepover or Spa Party Word Scramble Game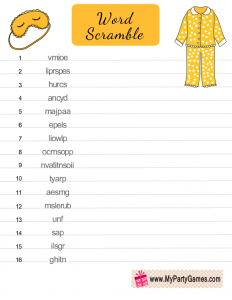 This is another free printable game worksheet for this sleepover, slumber party or spa party for girls. This game card is decorated with yellow Pajamas. Just click on this thumbnail image and a bigger image will open up, that you can save.
Sleepover or Slumber Party Word Scramble Game Printable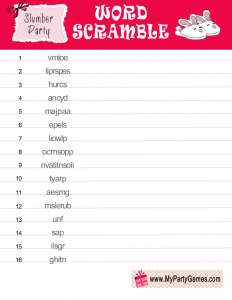 This is another printable worksheet for this sleepover or slumber party word scramble game. This cute game card is decorated with bunny slippers and a cute pillow.
Slumber Party Word Scramble Answer Key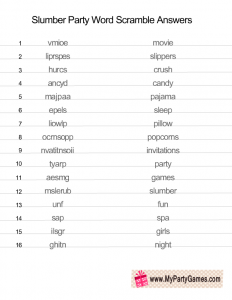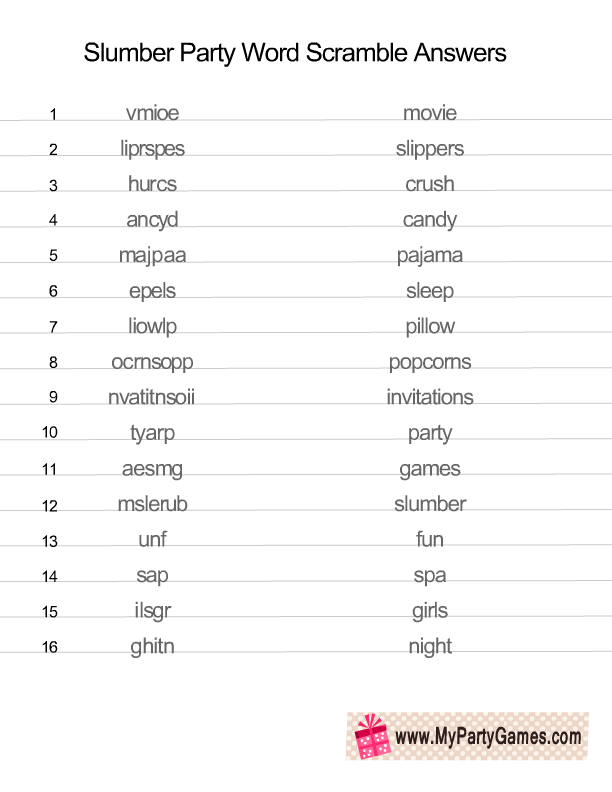 This is a free printable answer key to Slumber party or Sleepover party word scramble Puzzle. Just click on the thumbnail and a bigger image will open up. You can print it or save it to your mobile, tablet or PC to check the answers given by the players.