This is a Free Printable version of classic Pin the Tail on Donkey Game. You can play this game for fun and laughter on your birthday parties, family gatherings in classrooms and at kid's indoor parties. This cute game can be printed using your home printer. This game can be played by member of any age group. This is a fun family game that is liked by everyone. I have made a cute donkey and tails. I am sure that everyone would love playing this game and it will help keeping the kids entertained.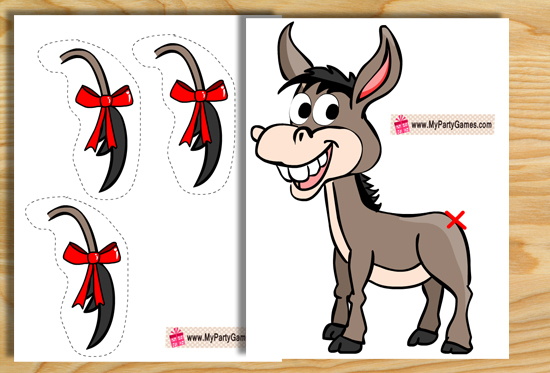 How to Play
Take a printout of this game on an A4 size paper and paste it on a bigger paper and board. I have made a separate sheet with tails that you could print according to the number of players. You can also make the tails with strings and ribbons. If you are using the printed tails then paste a rolled up tape on the back. You can also use thumbtacks but those are not recommended if younger kids are also playing. Write names of each player on the tails and everyone should take turns. On  a player's turn, blindfold the player and then spin the player once or twice. Hand the blindfolded player a tail and allow him or her to attempt sticking or pinning it over the "X" on the donkey's rear end. The player who pins the tale closest to the mark will be the winner.
Free Printable Pin the Tail on Donkey Game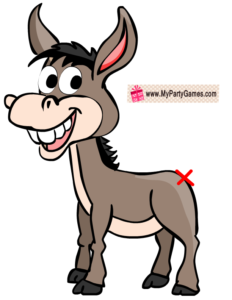 This is a cute image of donkey that would be liked by the kids. Click on the image of this donkey and a bigger image will open up. Right click and save that to your computer.
Free Printable Tails for Pin the Tail on Donkey Game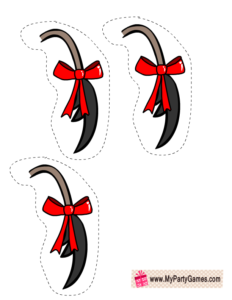 Here is a set of tails for this game. You should print these using your home printer and then cut around the edges.
I am sure that everyone in your family would love this game. Please leave a comment below. You are not allowed to share any of my images on your website.