Today I have made this Free Spring Scattergories inspired game in various designs and colors. You can play it in your springtime and Easter parties, during spring break, in classrooms and also at your homes. I have used two words 'spring' and 'flower' and also made one blank printable.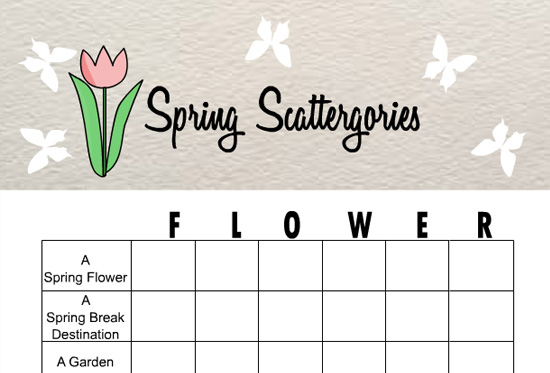 How to Play
Print and distribute these Scattergories game cards among the players. If you have a die then use the blank categories list. If you do not have a die then use the game worksheets that I have created using Spring related words, Spring and Flower. Give each player a pen or pencil and set the timer to 3 minutes or 5 minutes. Each guest will have to make unique words with each letter for each category within the assigned time. Players take turns reading their lists. Cross out any answers that matched another player's. Players score one point for each answer not crossed out.
Free Printable Spring Scattergories Game Categories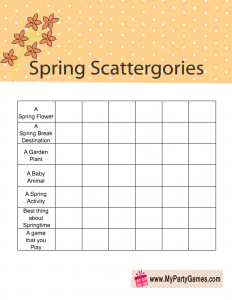 This is a blank game card with different spring related scattergories categories. You can print and play this game with the help of a scattergories die or else you can use scrabble letters. Just click on the thumbnail of this image and a bigger image will open up, you can right click and save that.
Free Printable Spring Scattergories Game with the Word 'Spring'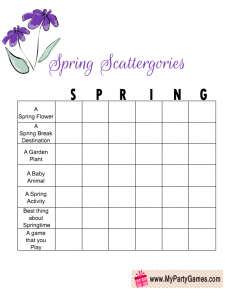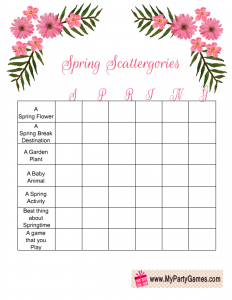 Here are two free printable Spring Scattergories sheets with the word 'spring' written on each. The players will have to make a word with each letter of this word according to the different categories. This is a fun game and healthy educational spring activity.
Free Printable Spring Scattergories Game with the Word 'Flower'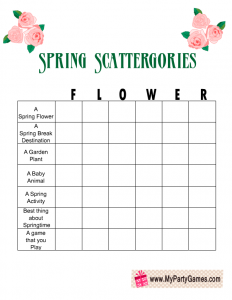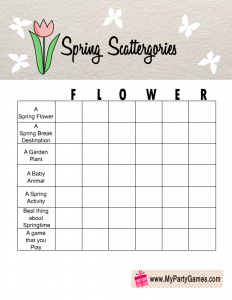 Here is another version of this free printable Spring Scattergories with the word flower on it. Just click on the design of your choice and then right click and save the bigger image.