Today, I would like to share a step-by-step tutorial on how to create tabletop fabric and lace Christmas trees using supplies that are readily available at home. You do not need to be an expert crafter to make these adorable trees. They can serve as an affordable and beautiful Christmas gift for someone or make for a frugal yet stunning table centerpiece or decoration.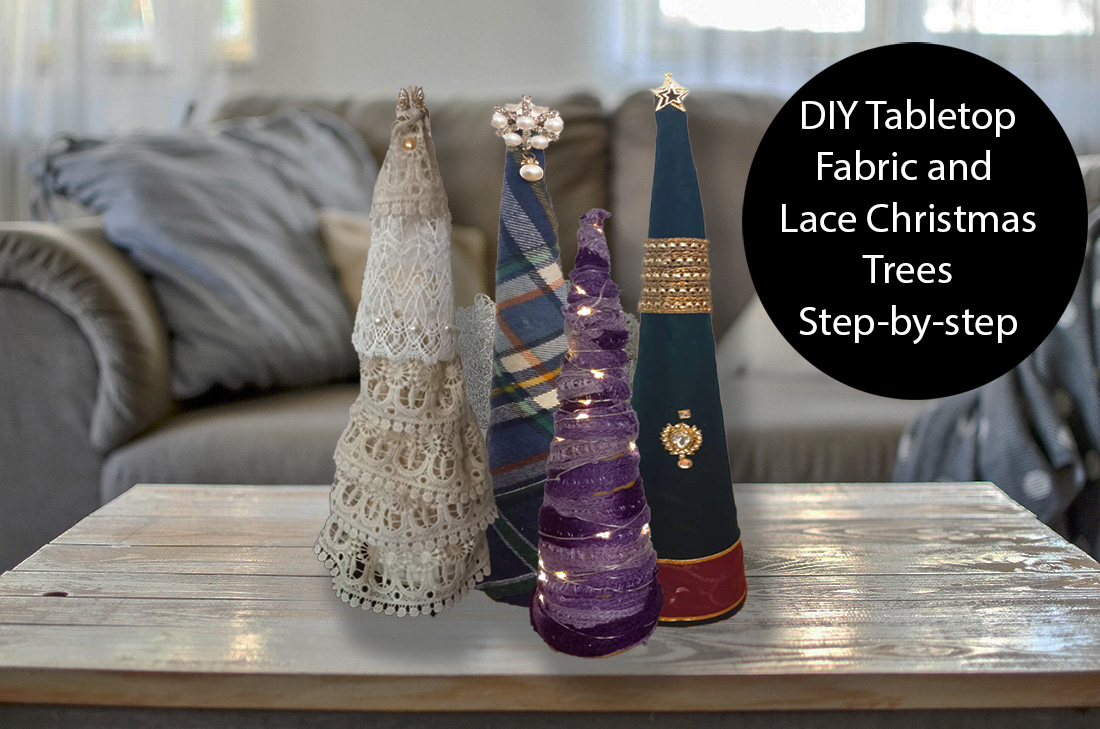 I made these 4 Christmas decoration trees today just for fun but then I thought about sharing how to do so with you.
Supplies Needed to Make DIY Fabric and Lace Christmas Trees
Fabric pieces like Velvet, cotton or Jute
180 Gsm thick paper (I used A4 and A3 sheets)
Super Glue or Hot Glue
Lace Trims
Masking Tape
Ribbons and embellishments
Fairy lights
Yarn or Jute Twine
A pair of scissors
Thread and Needle (to make the shabby chic Christmas tree)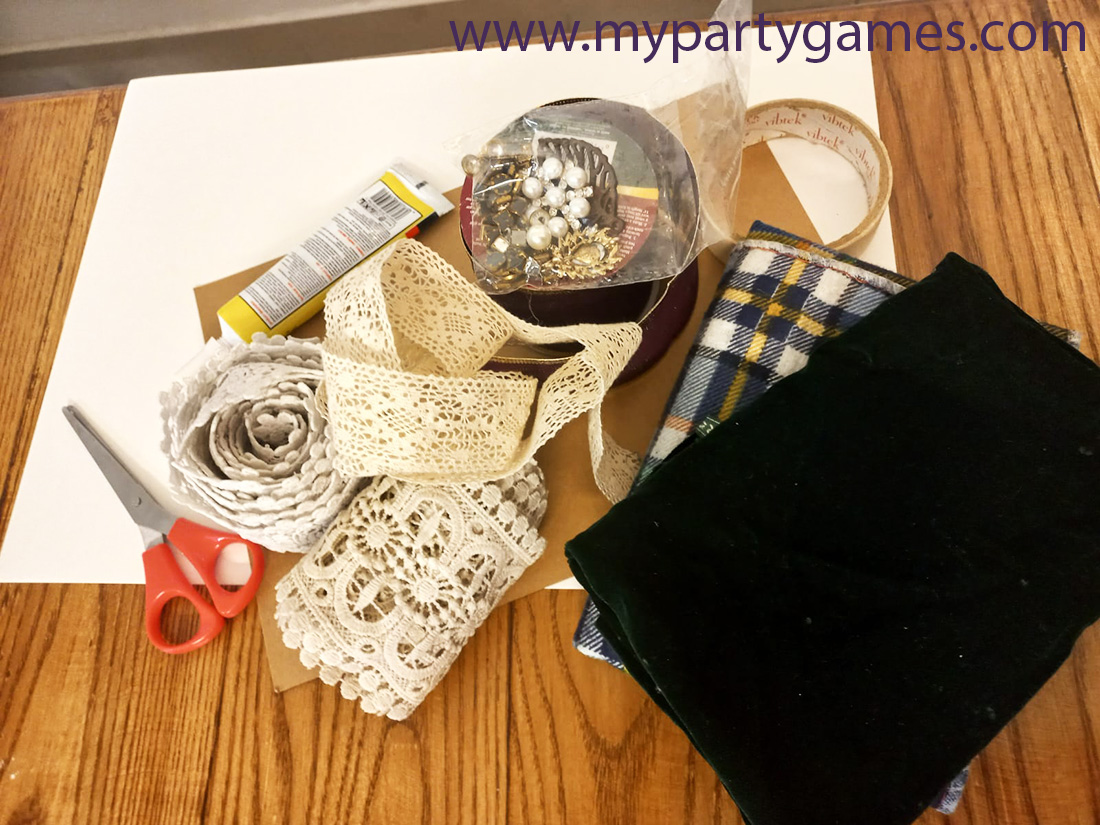 How to Make a Paper Cone to Make a Christmas Tree
Step 1
Firstly you need to make a paper cone out of paper. You can also find ready-to-use cones at Michaels and Hobby Lobby etc. Take a Sheet of paper, place it on the table, and start folding it in the way shown below to form a cone. You can make the cone wide or narrow as per your preference.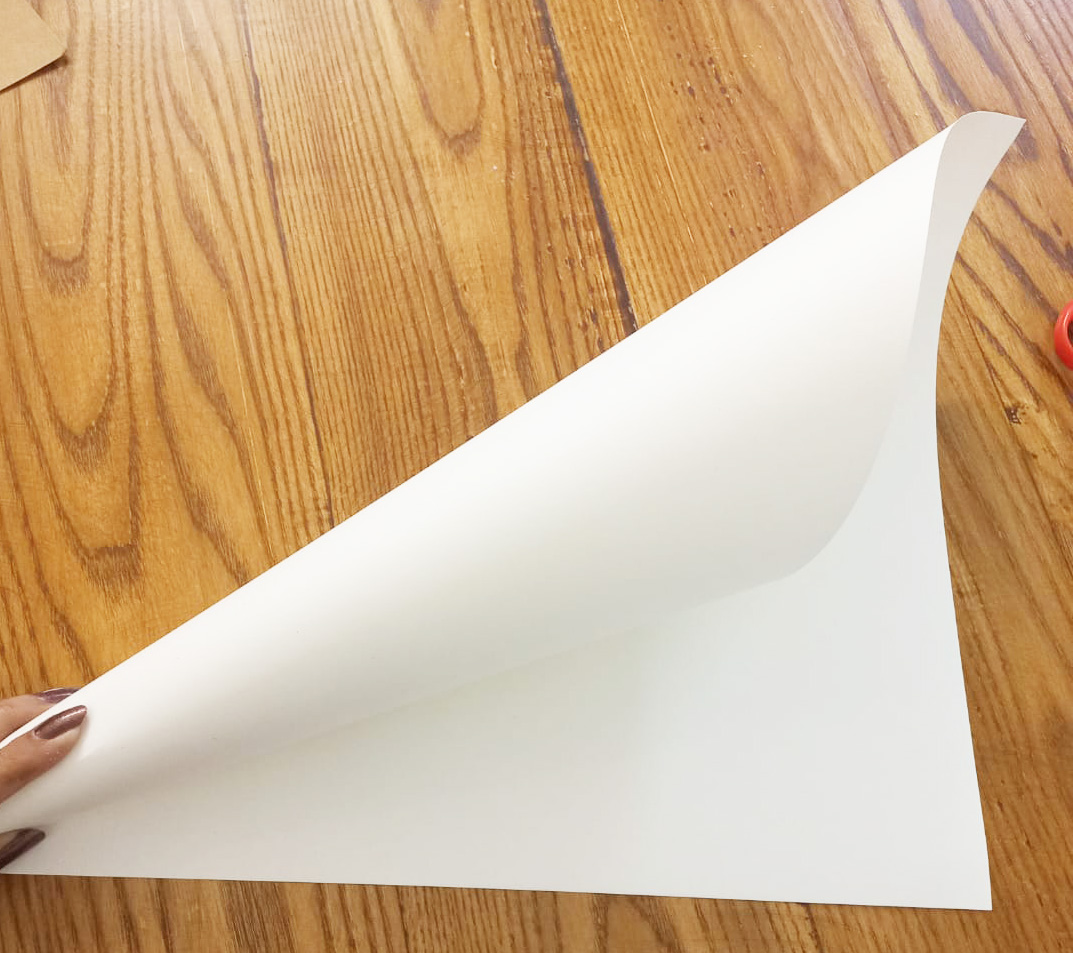 Step 2
Secure the ends of the paper with masking tape or any other tape. I prefer tape to glue.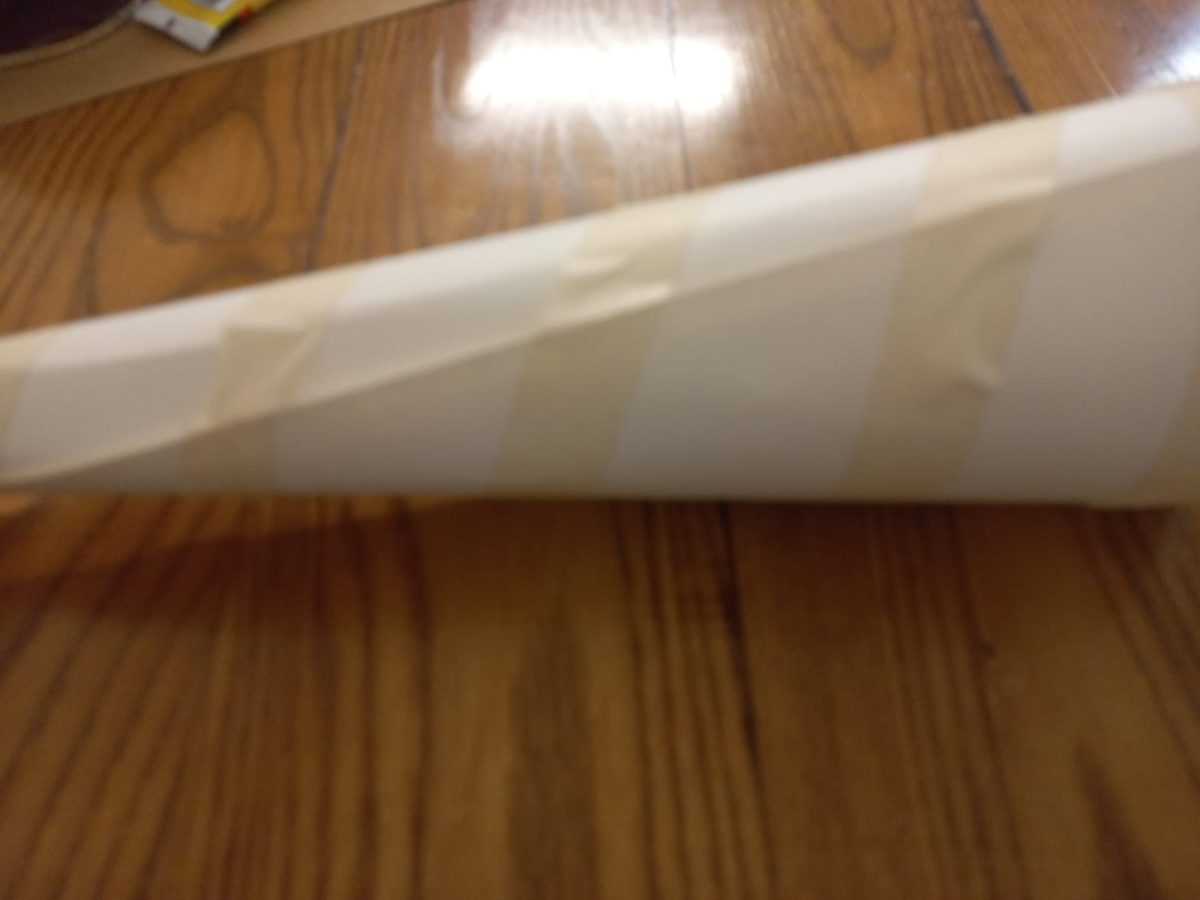 Step 3
Now trim the triangular end of the cone to make an even round base.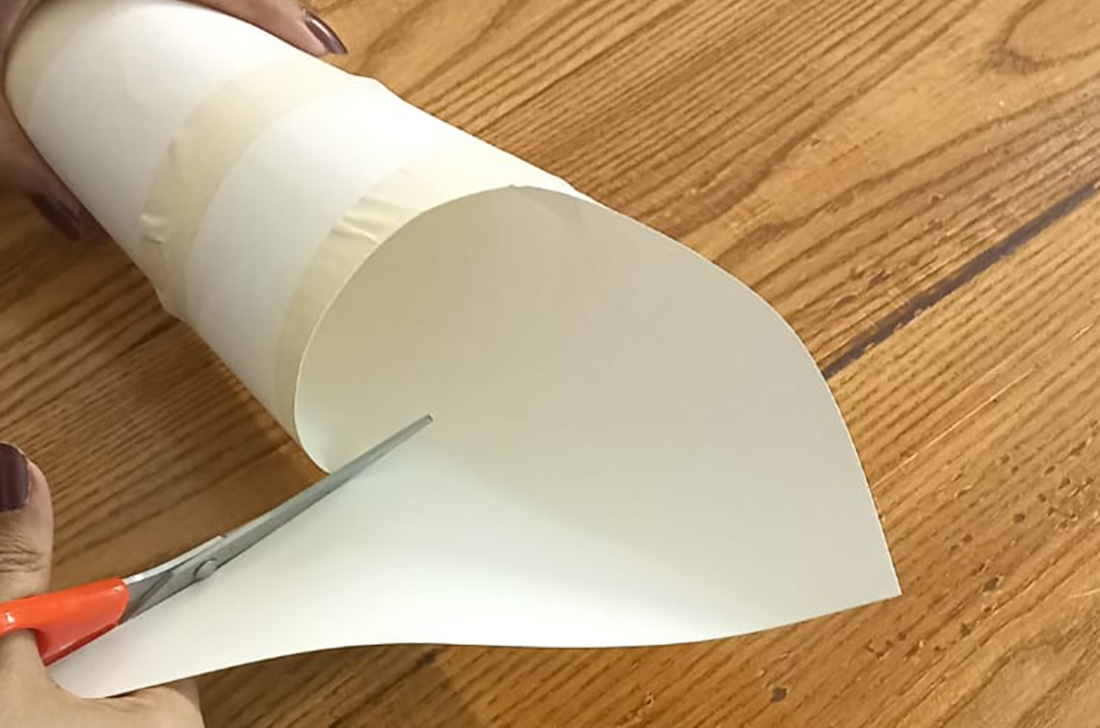 You can prepare as many cones as you like by following these 3 easy steps.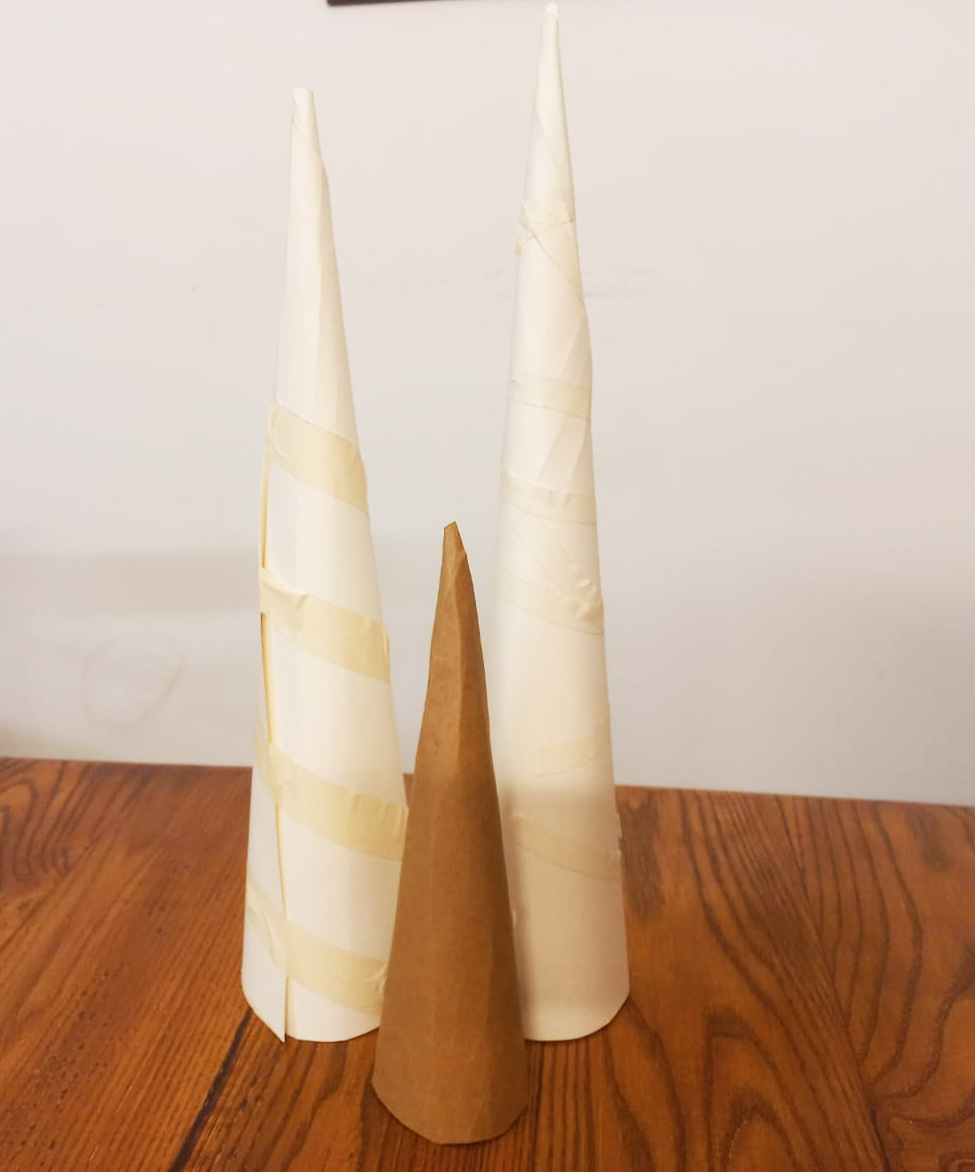 DIY Lace Shabby Chic Christmas Tree Step-by-Step
Take one cone and a few trims of laces to make this DIY Lace Shabby Chic Christmas Tree.
Step 1
Take thread and needle and start moving the thread through the lace just the way it is shown in this picture. You need to add gathers to the piece of lace.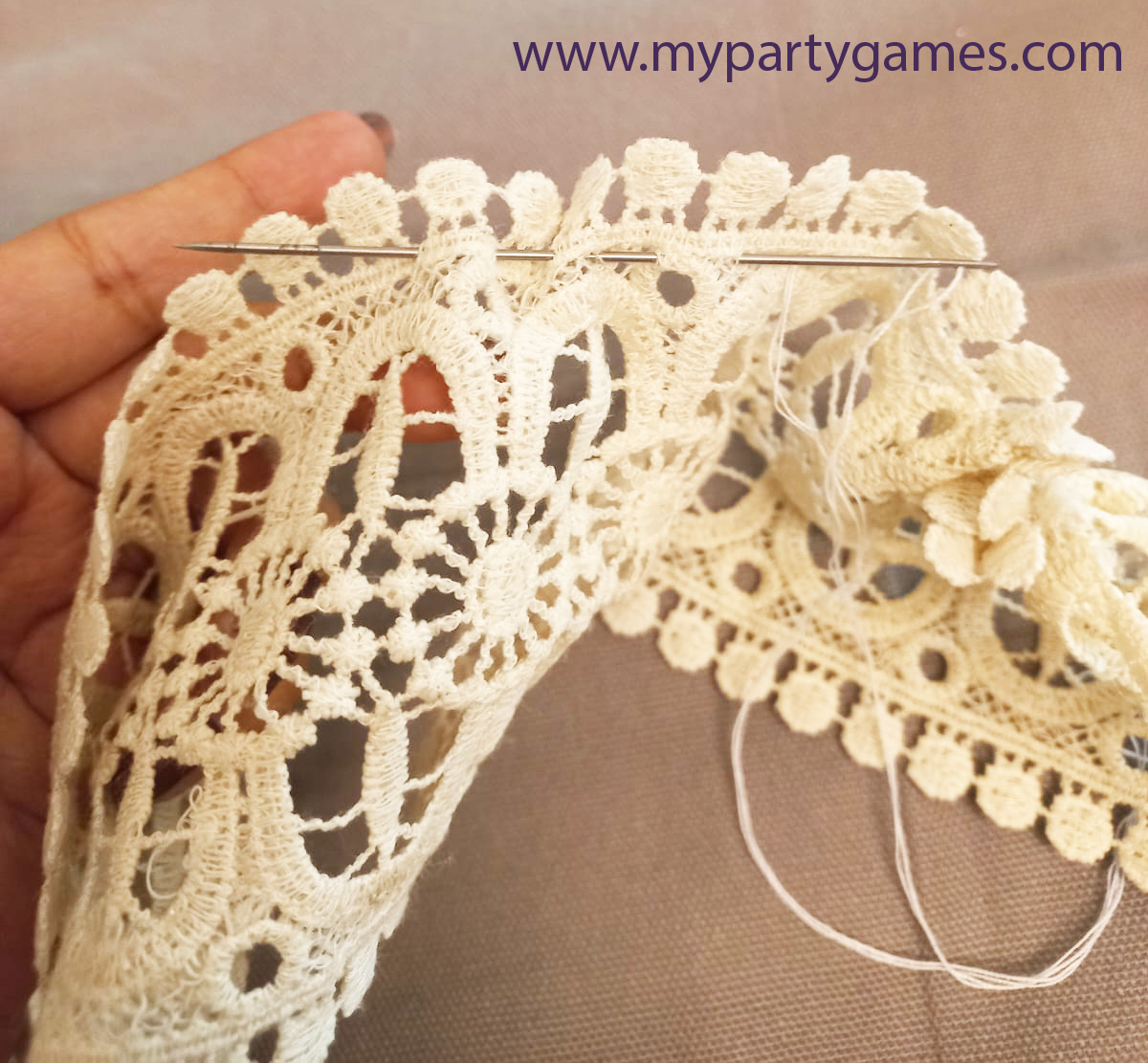 Step 2
Glue the pieces starting from the bottom. Glue the first gathered lace piece in a way that its end touches the bottom.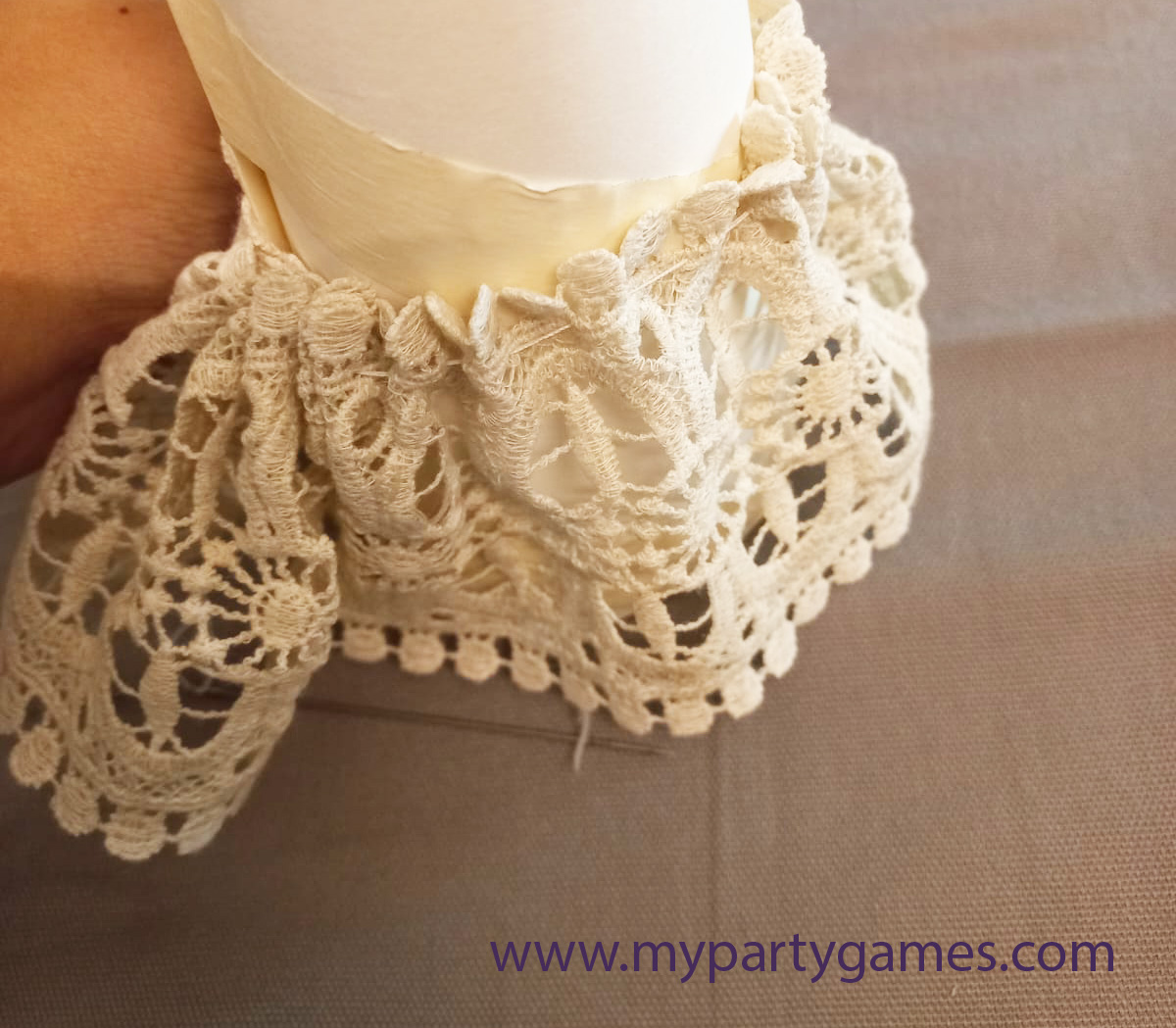 Step 3
Keep pasting gathered lace pieces above each other.
Step 4
Paste all the pieces through the top and then embellish the tree with pearls, beads, or just a simple brooch. Your cute DIY shabby chic Christmas tree is ready.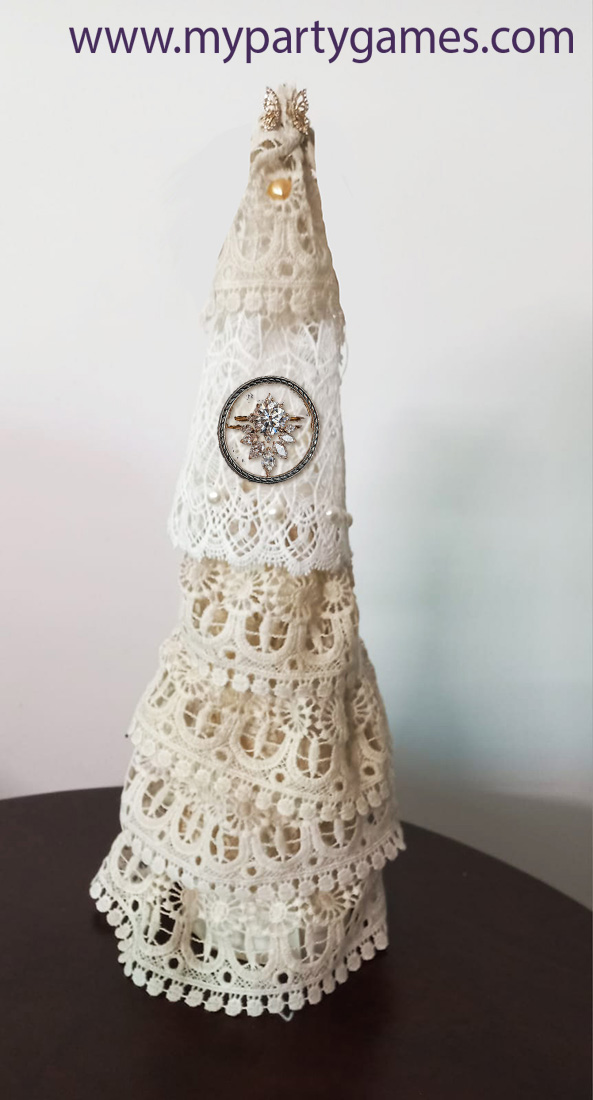 Easy DIY Tabletop Sashay Yarn Christmas Tree Step-by-Step
This is the second DIY Tabletop tree. You can make this tree with yarn, ribbon, burlap twine, or a thin lace. I had some sashay yarn so I used that.
Step 1
Start wrapping the yarn or twine starting from the bottom of the cone.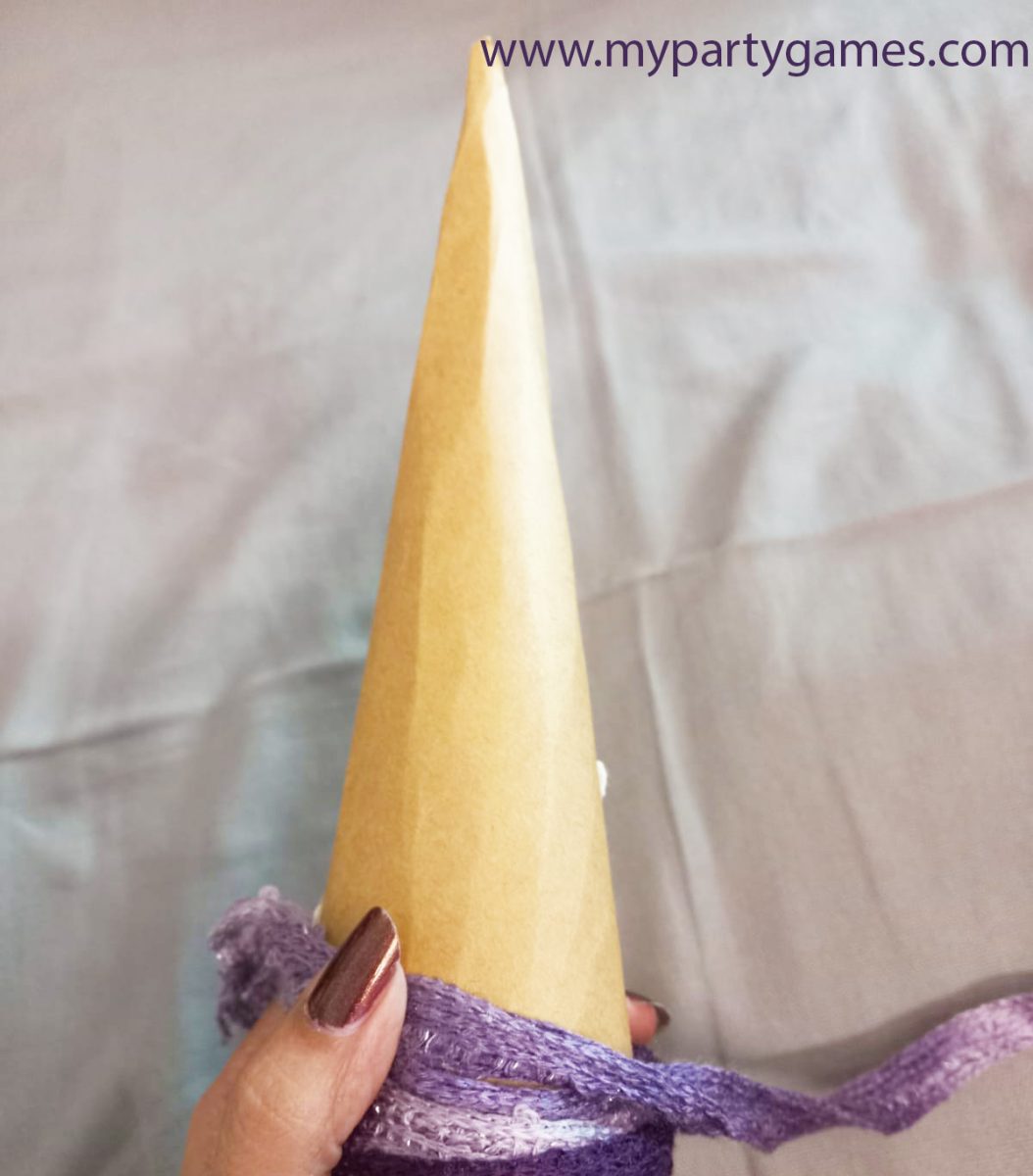 Step 2
Wrap the tree all the way to the top and secure the end with glue.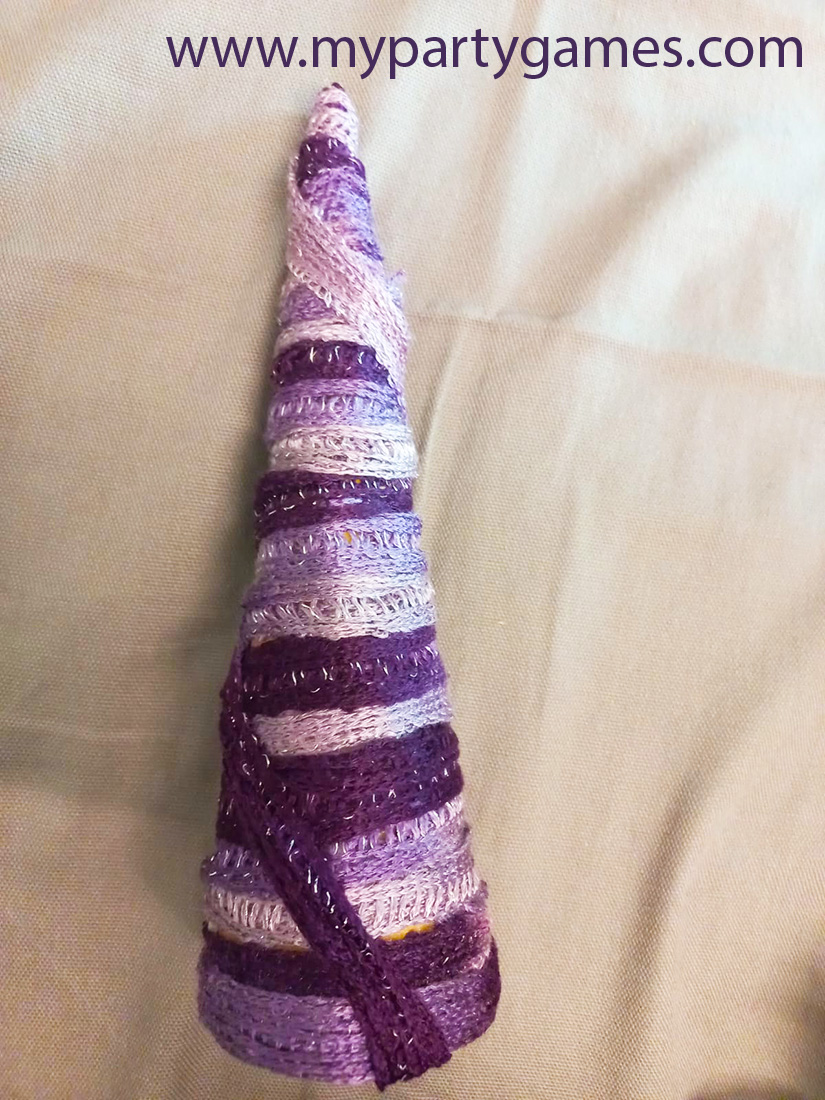 Step 3
Wrap a string of battery operated fairy lights on the Christmas tree to give it more festive look.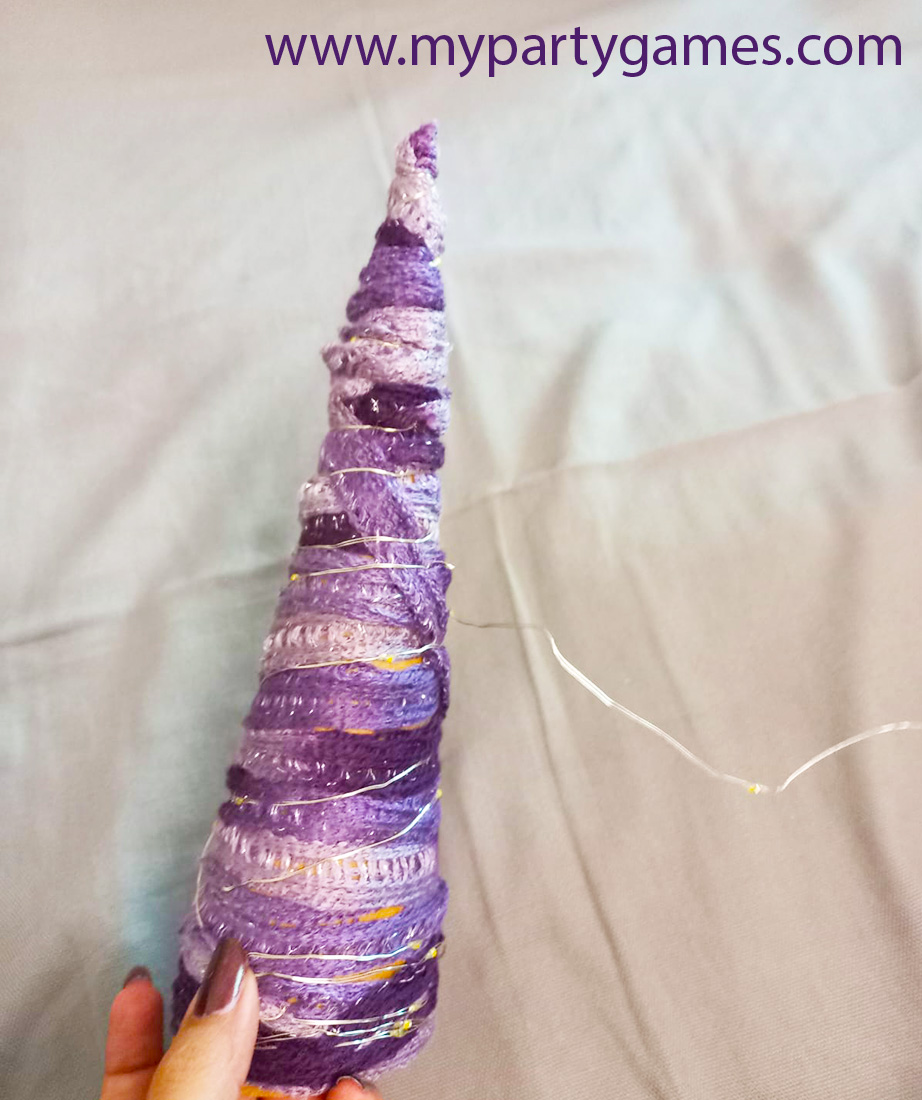 The DIY Sashay yarn Christmas tree is ready.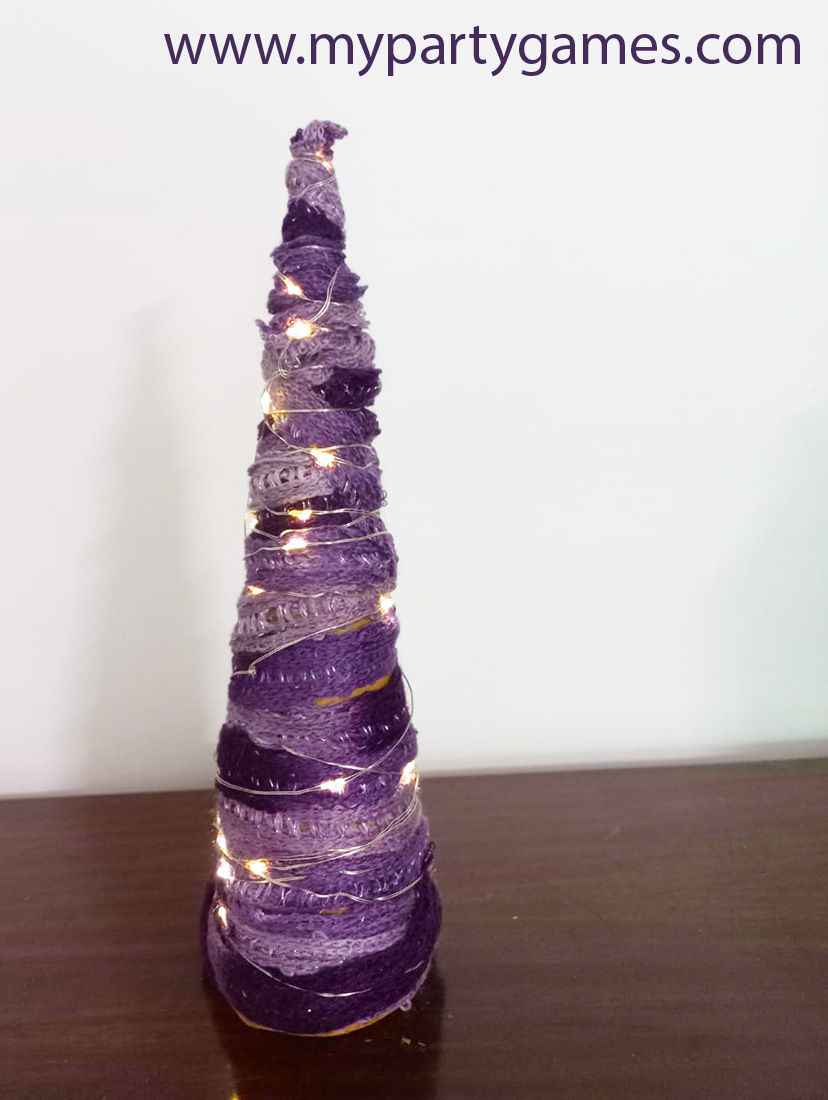 DIY Velvet Fabric Christmas Tree, Step-by-Step
Step 1
Take the paper cone and fabric of your choice. First, lay the fabric on the floor and place the cone in one corner. Cut the fabric while rolling the cone on the fabric until the whole cone is covered. When the cone is completely wrapped, cut the fabric to the corner.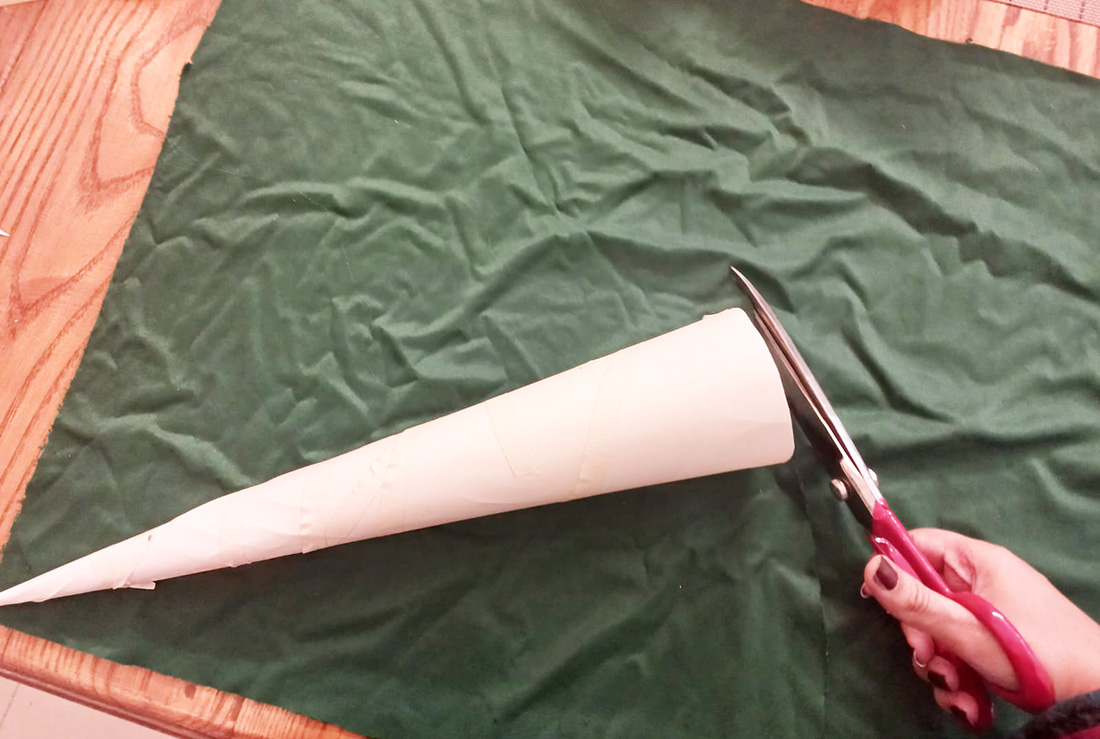 Step 2
Paste the fabric on the cone with hot glue, super glue or fabric glue and roll and paste the ends inside the paper cone as displayed in the picture.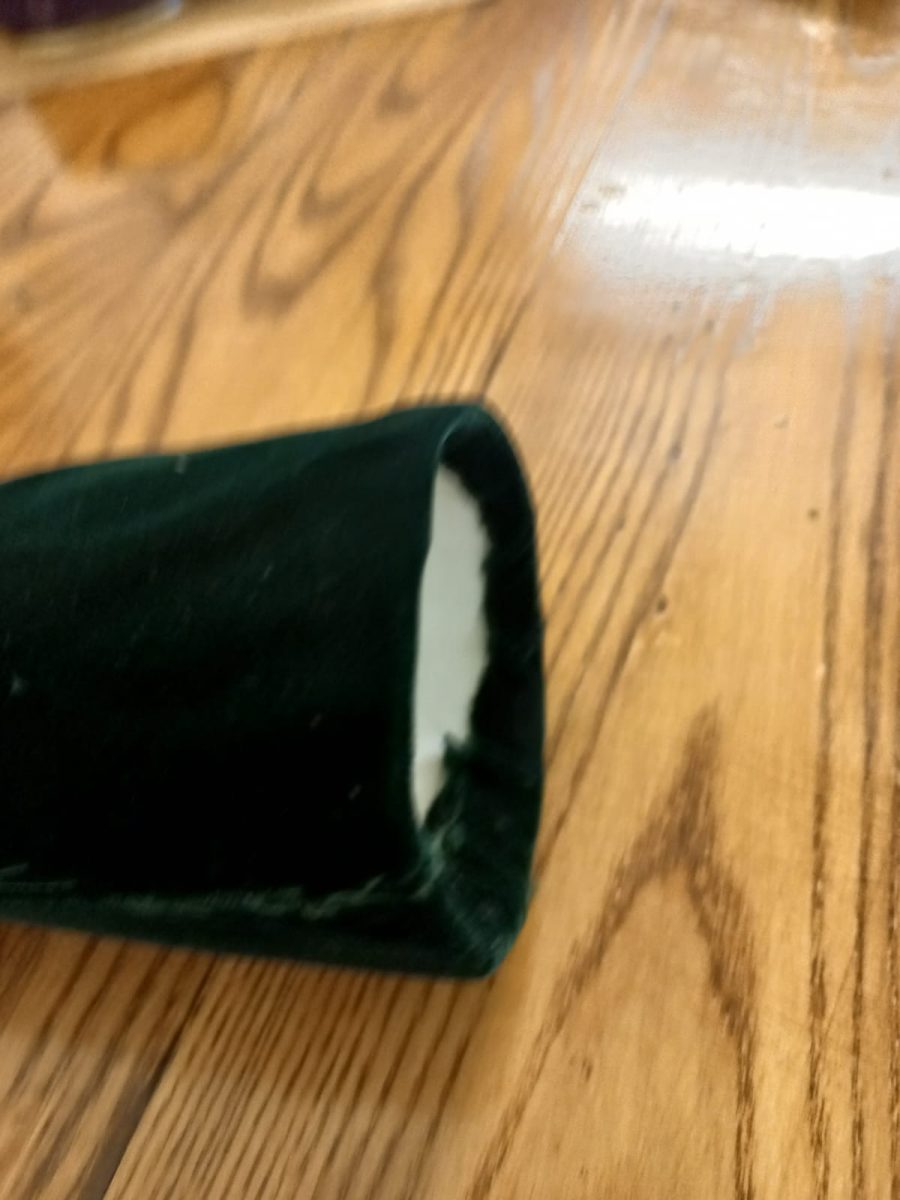 Step 3
Embellish the tree with ribbons, charms, or any embellishments that you like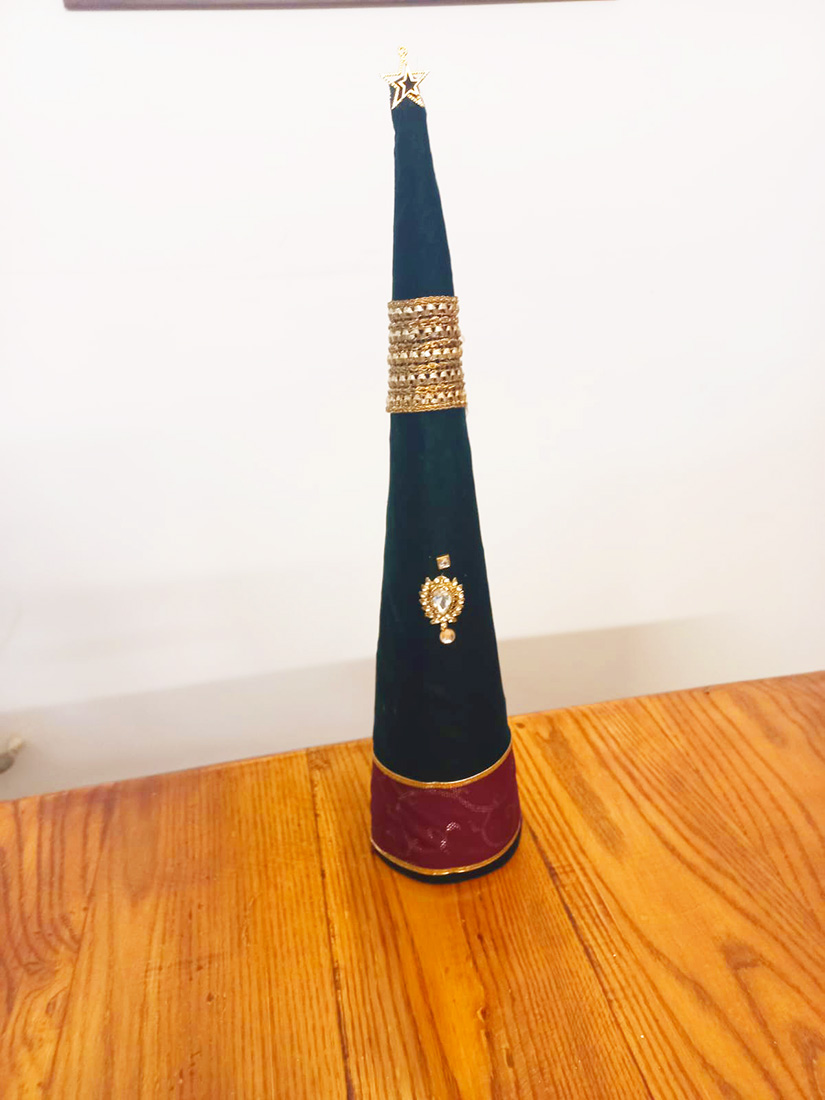 DIY Felt Fabric Christmas Tree
You can create a Christmas tree by using just any fabric.