Test the reflexes and memory of your friends and family with this Free Printable Five-Second Saint Patrick's Day Game. This game is inspired by the Five-second rule game but I have created original free printable cards for this fun Saint Patrick's Day Game. This is a perfect game for big groups and large parties. You can play this game at your office party that you are having for Saint Patrick's Day or at any get-together of your family. You can also play this fun game at the family game night.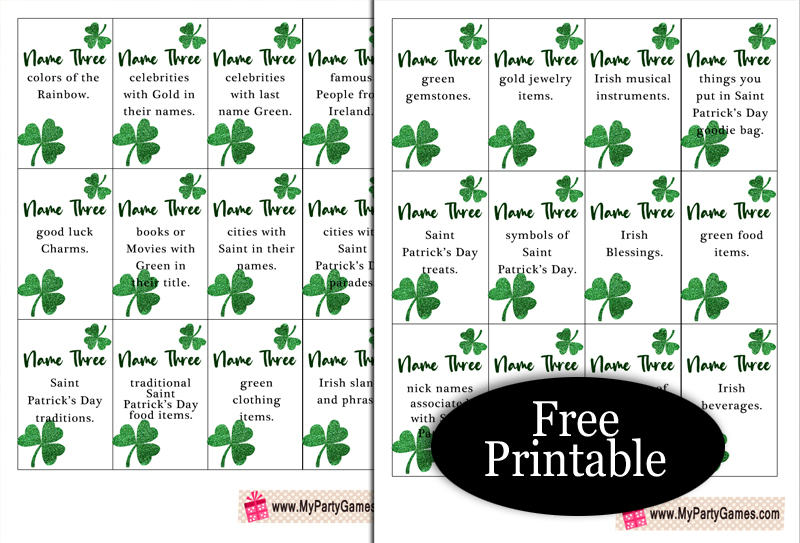 How to Play
Method 1: Divide the players into two teams, on their turn the team will choose a member who will be on the hot seat. Set the timer to 5 seconds. Ask the player to name three Valentine's Day-related things by answering the question that is written on the card. If the player answers the items correctly within 5 seconds then the team scores a point. If they are unable to give the answer correctly, the same question will be asked to the second team. They should choose 3 different things and cannot repeat any of the things chosen by the first team. If they name three things correctly then they will score a point. Then ask the same team another question that they have to answer as per their turn. In the end, the team that scores the most points wins.
Method 2: Players sit in a circle, shuffle the cards and put those face down in the center. Choose the youngest player to draw the first card. He or she should name 3 things written on the card within five seconds. If the player is unable to name 3 things correctly then he or she should pass the card to the next player who should name three things within 5 seconds without repeating the ones told by the first player. Then they will also draw another card that they were supposed to draw on their turn. For naming 3 things correctly the player will keep the card with them. In the end, the player with the most cards wins.
You can also play this game in other ways as well. The main objective is to name three answers related to Christmas that are asked on each card. You can also create rounds for this game if you are playing in big groups.
Free Printable Five-Second Saint Patrick's Day Game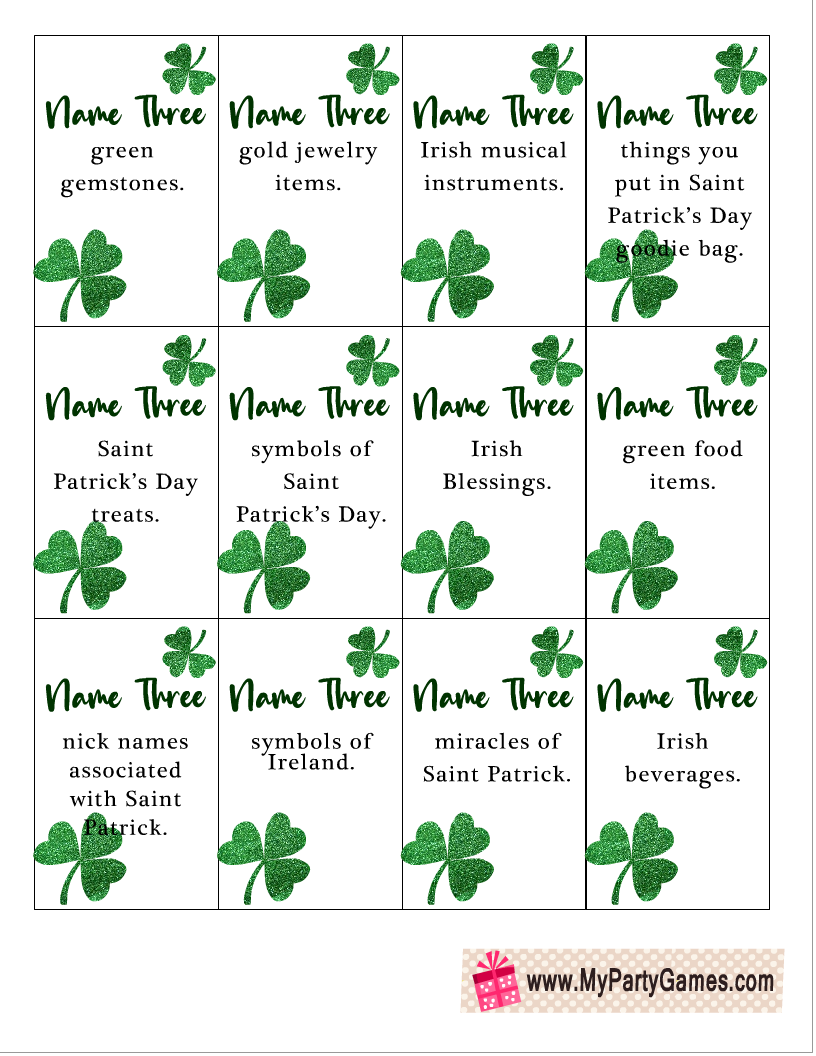 This is the first set of cards for this five-second game. These fun cards are decorated with sparkling Shamrocks and white background. There are various Saint Patrick's Day-related items that the players have to name.
Five-Second Saint Patrick's Day Game Free Printable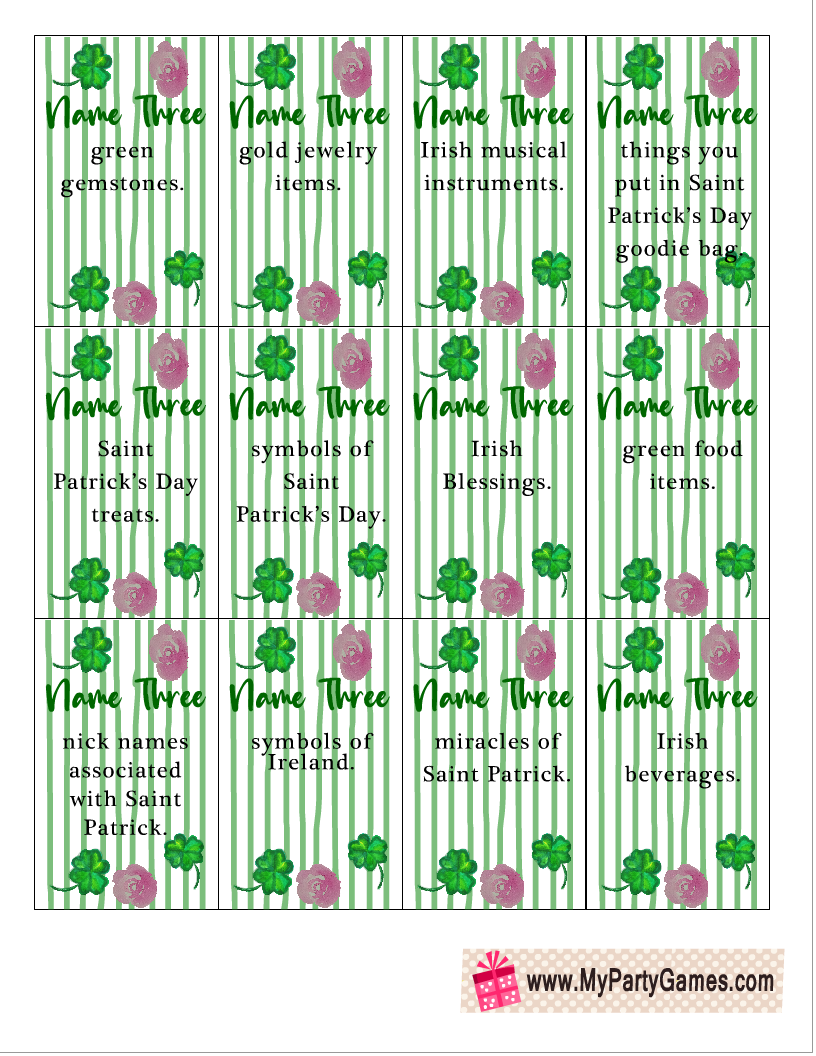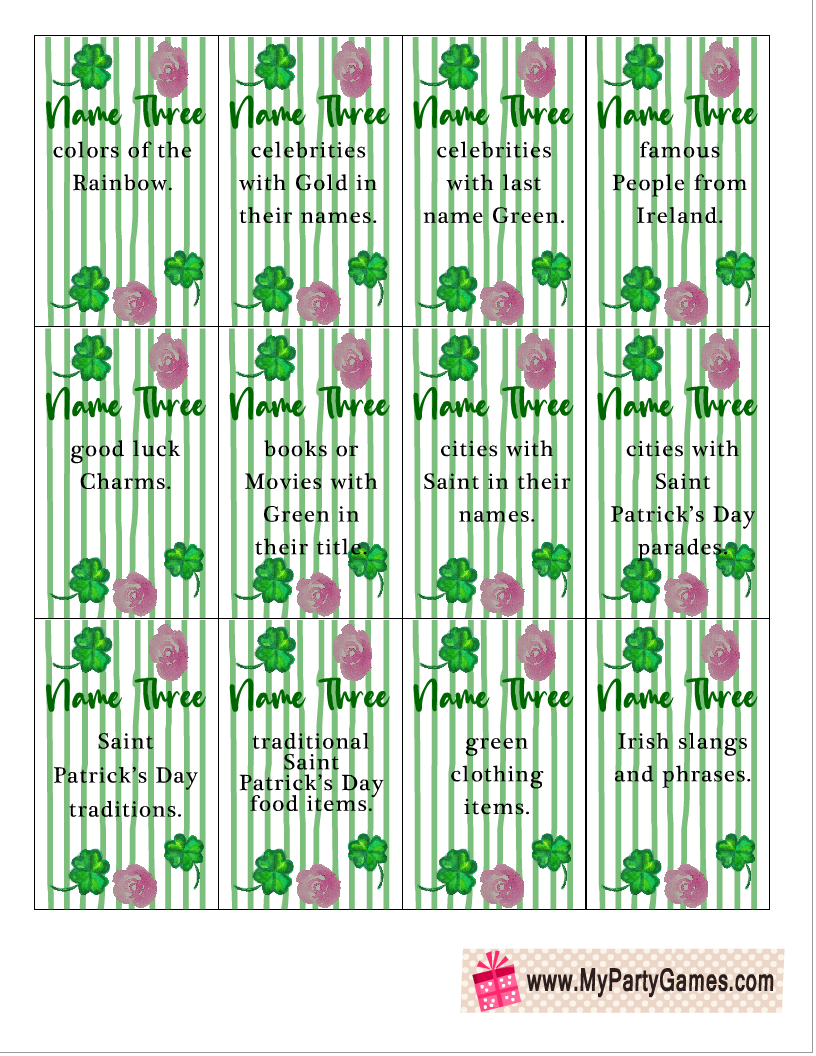 This is the second design for these 5 second Saint Patrick's Day game cards. These cards have striped lines, clovers, and roses. If you like this design more then print the game in this design.