A few days ago I learned to read Lenormand Cards and decided to make my own deck of cards. and now I have decided to share it here for free in a printable format.
Lenormand card reading is an ancient fortune-telling technique. There are 36 cards that you can use to read the future and fortunes. I have made these cute cards by using some of the graphics that I have previously made and some new ones but all the graphics used in this set of cards are original and created by me.
You are not allowed to repost any of the graphic that I am sharing on this page to any group or website. You are also not allowed to distribute and link the PDF files that I have shared on my website. If I'll ever find unauthorized use of my work, I'll take every legal action against you.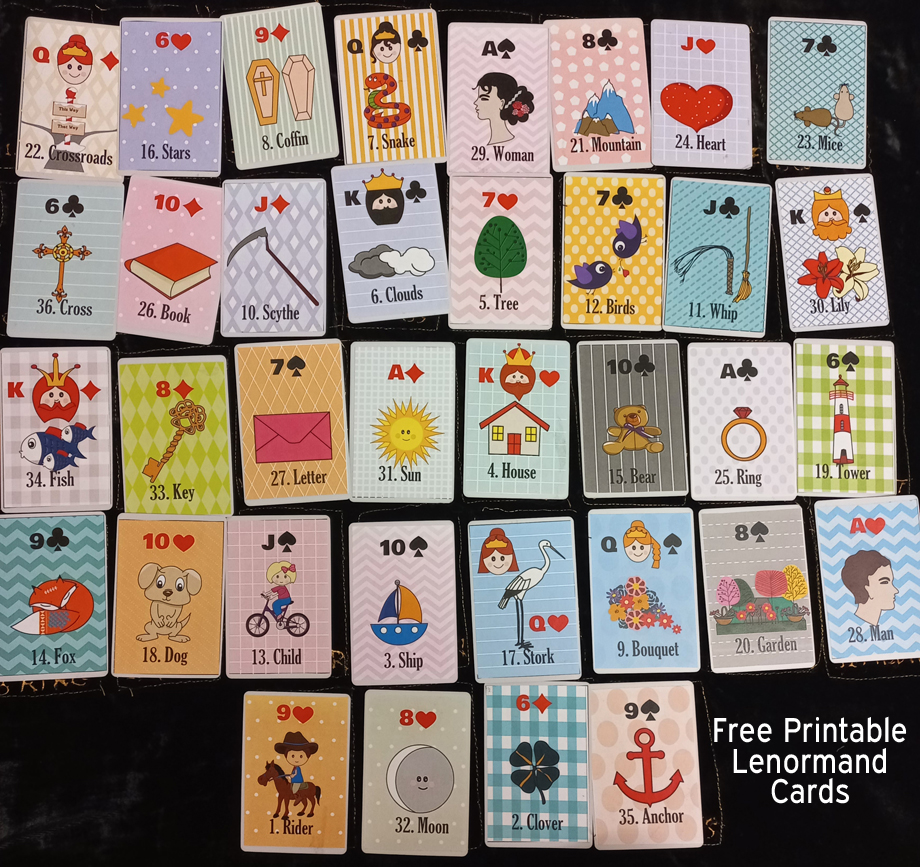 How to Use
Print all the four sheets that I am sharing below, by using a color printer. You can got these printed from a print shop as well. You can get the cards printed on a sticker paper or any white computer paper. After getting the cards printed, cut each card around the edges. I have taken a deck of 52 poker cards and have pasted each print out on one of the cards. It was a perfect fit and easily created my own Lenormand deck. You can however, also print this deck on a heavy card stock paper. You are not allowed to redistribute or sell this deck even in printed form.
Free Printable Cute Deck of Lenormand Cards (Sheet 1)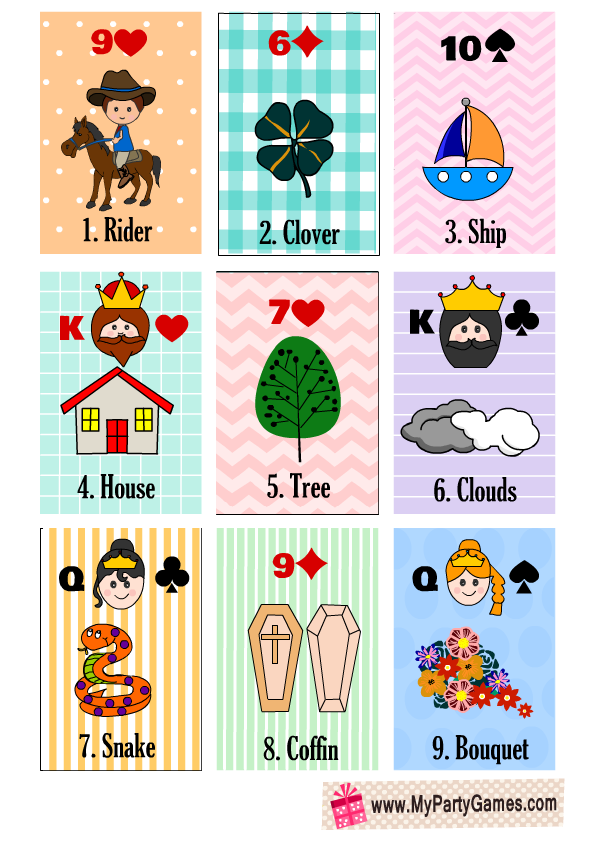 This is the first printable sheet for this deck of cards. On this sheet you will find the first 9 cards. The cards are
Rider
Clover
Ship
House
Tree
Clouds
Snake
Coffin
Bouquet
All the cards are super adorable and have a different background and color. This deck of Lenormand cards is perfect for beginners as well as expert readers.
Free Printable Lenormand Cards (Sheet 2)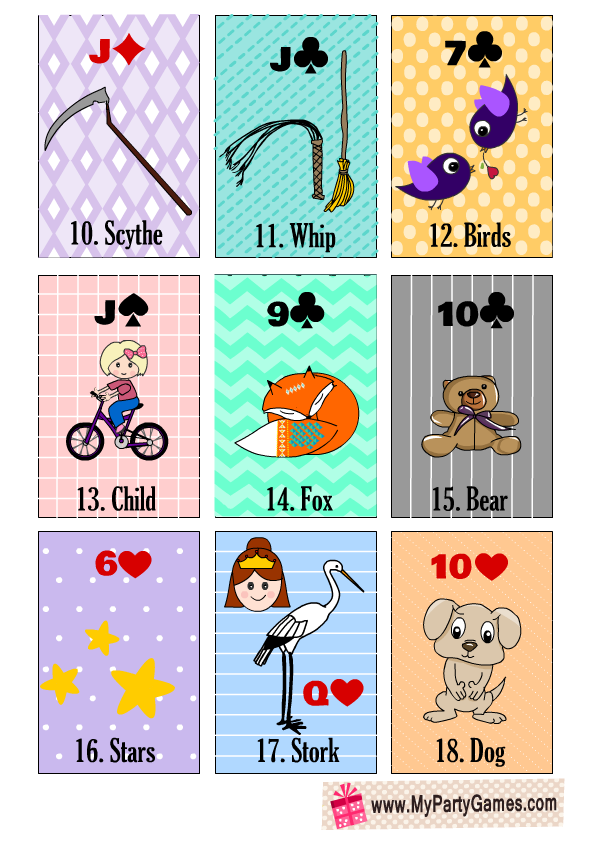 This is the second free printable sheet for these cute Lenormand cards deck. Just click on the image that I have shared above and the printable, high-resolution PDF file will be opened that you can print.
The cards that are given on this sheet are
Scythe
Whip
Birds
Child
Fox
Bear
Stars
Stork
Dog
Free Printable Cute Lenormand Cards (Sheet 3)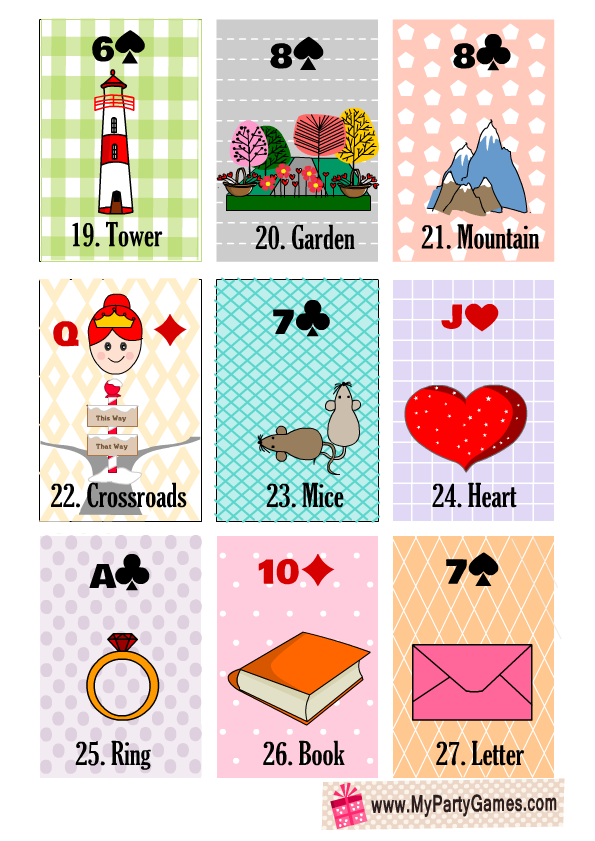 Here is the third sheet for this cute set of Lenormand cards. The cards that I have included in this sheet are
Tower
Garden
Mountain
Crossroads
Mice
Heart
Ring
Book
Letter
I have tried to not to repeat any background of the cards and made unique backgrounds of different color for every card.
Free Printable Cute Deck of Lenormand Cards (Sheet 4)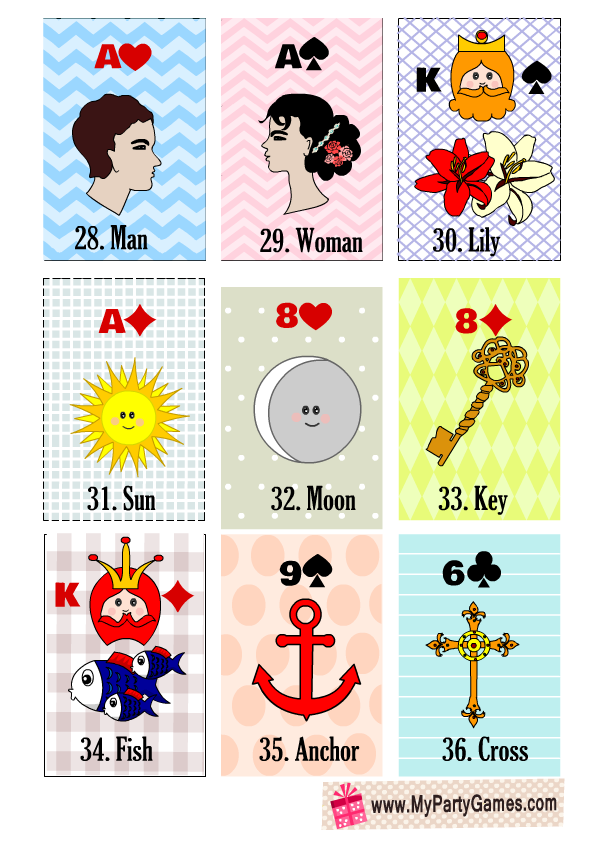 This is the fourth sheet for this free printable deck of cards. These super adorable and cute cards are
Man
Woman
Lily
Sun
Moon
Key
Fish
Anchor
Cross
Please do not violate my copy rights. Please pin the images on Pineterest and share the links to this post on social media platforms, such as Facebook and Twitter.